c u s t o m f u r n i t u r e
What's your dream? Our yard is stocked with over 25 species of local New York City and Northeast Native trees. We are also continuously collecting vintage boards from construction sites all over the city. We have an in-house welding shop to help you create the look that you've been dreaming of. With these great materials, we can work with you to create exactly what you are looking for.
our commercial gallery
Yellow Pine Counter Top
Beautiful, custom Yellow Pine counter top stained English Chestnut crafted for a private residence in Rye, NY.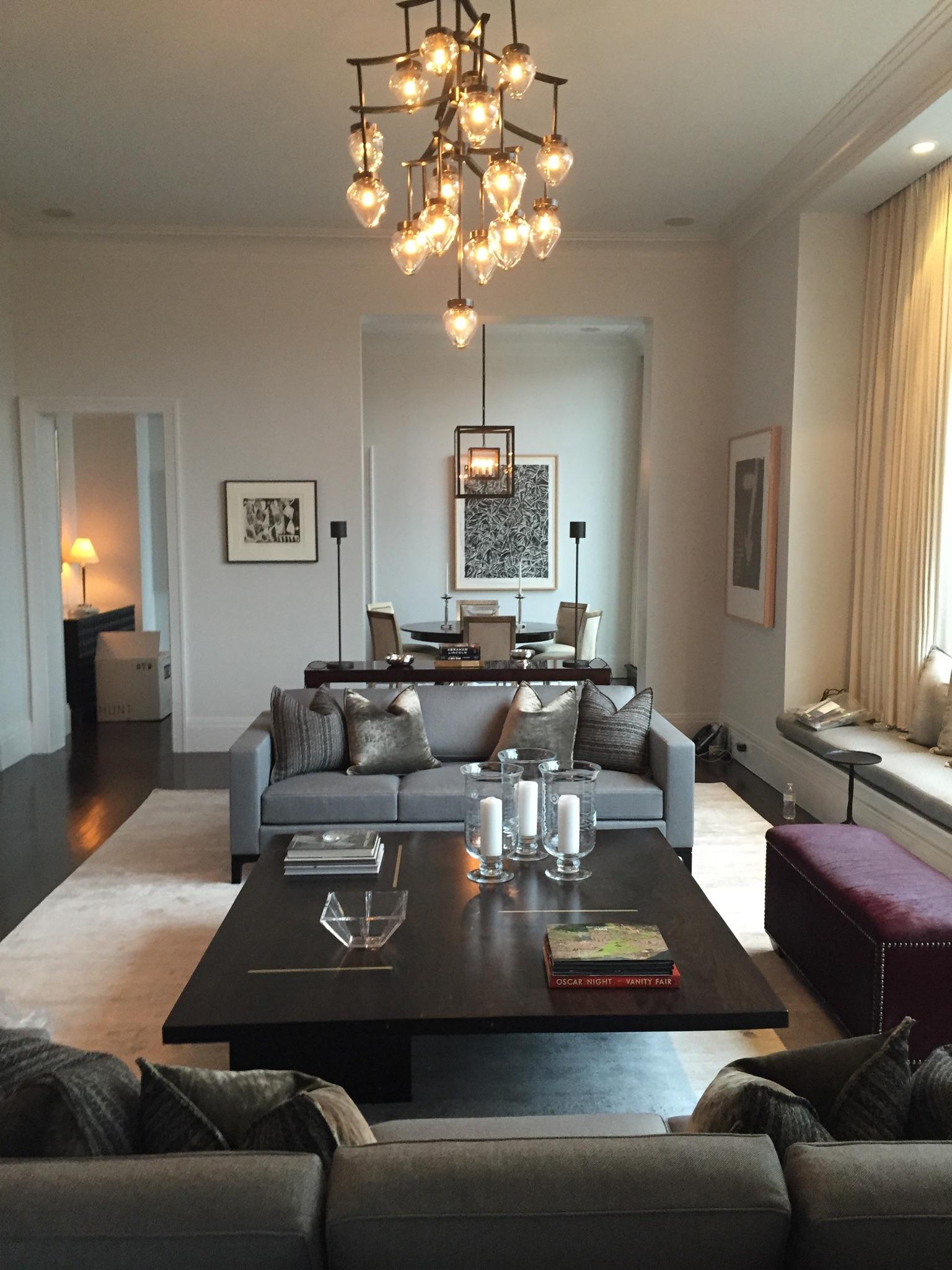 Black Walnut Coffee Table
Beautiful Black Walnut coffee table with antique'd brass accents.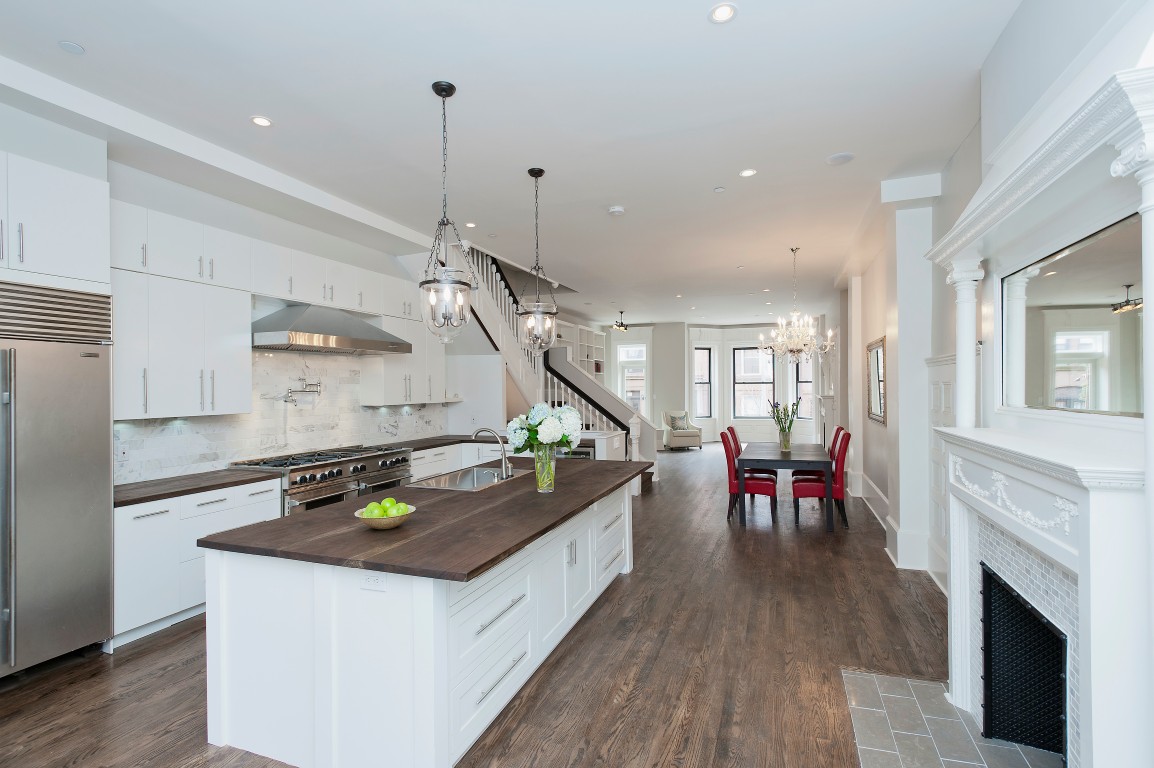 Walnut Kitchen Counter Tops
Custom built Walnut counter tops compliment this beautiful kitchen in a Hamilton Heights brownstone.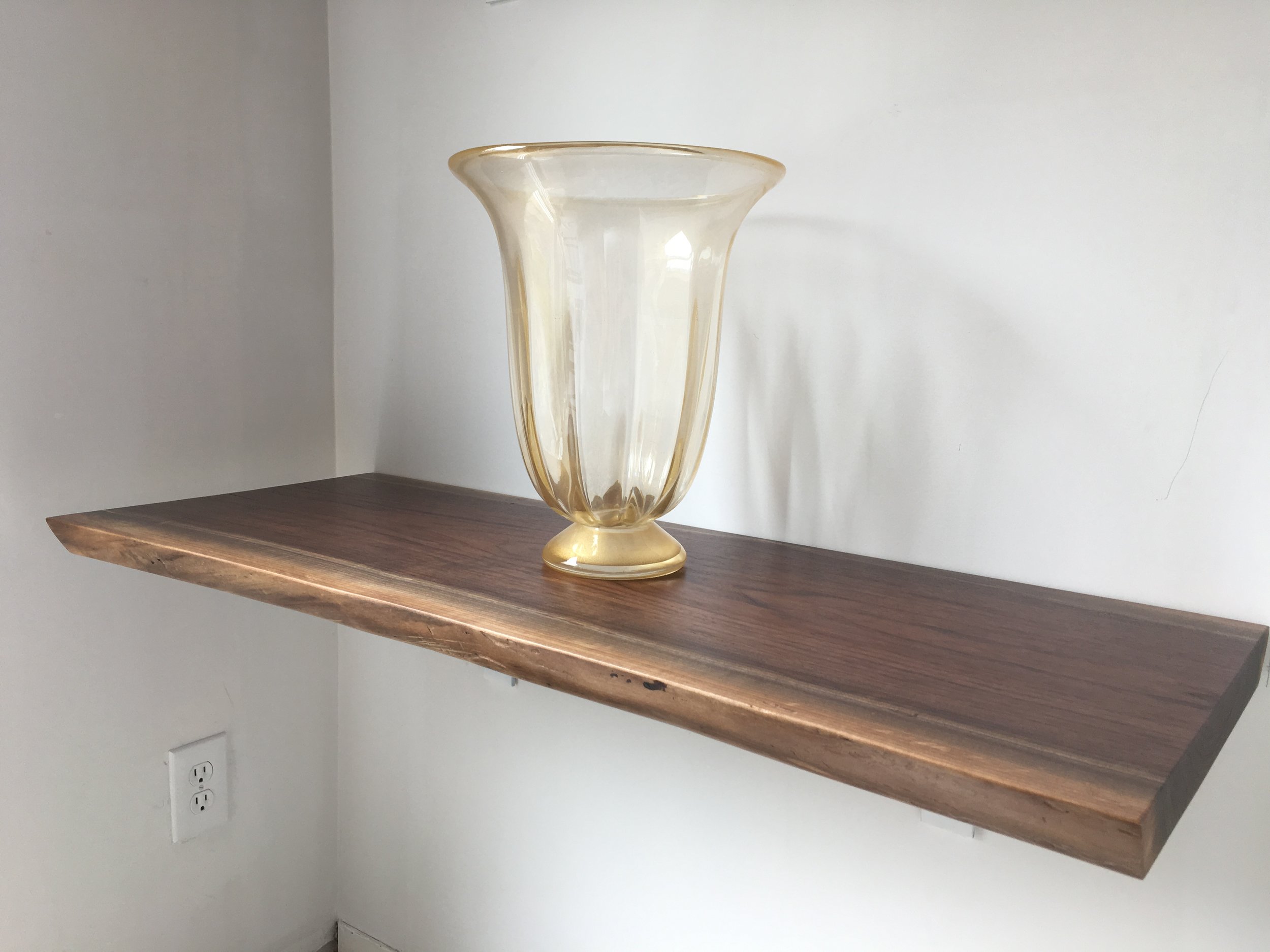 Live Edge Back Walnut Shelf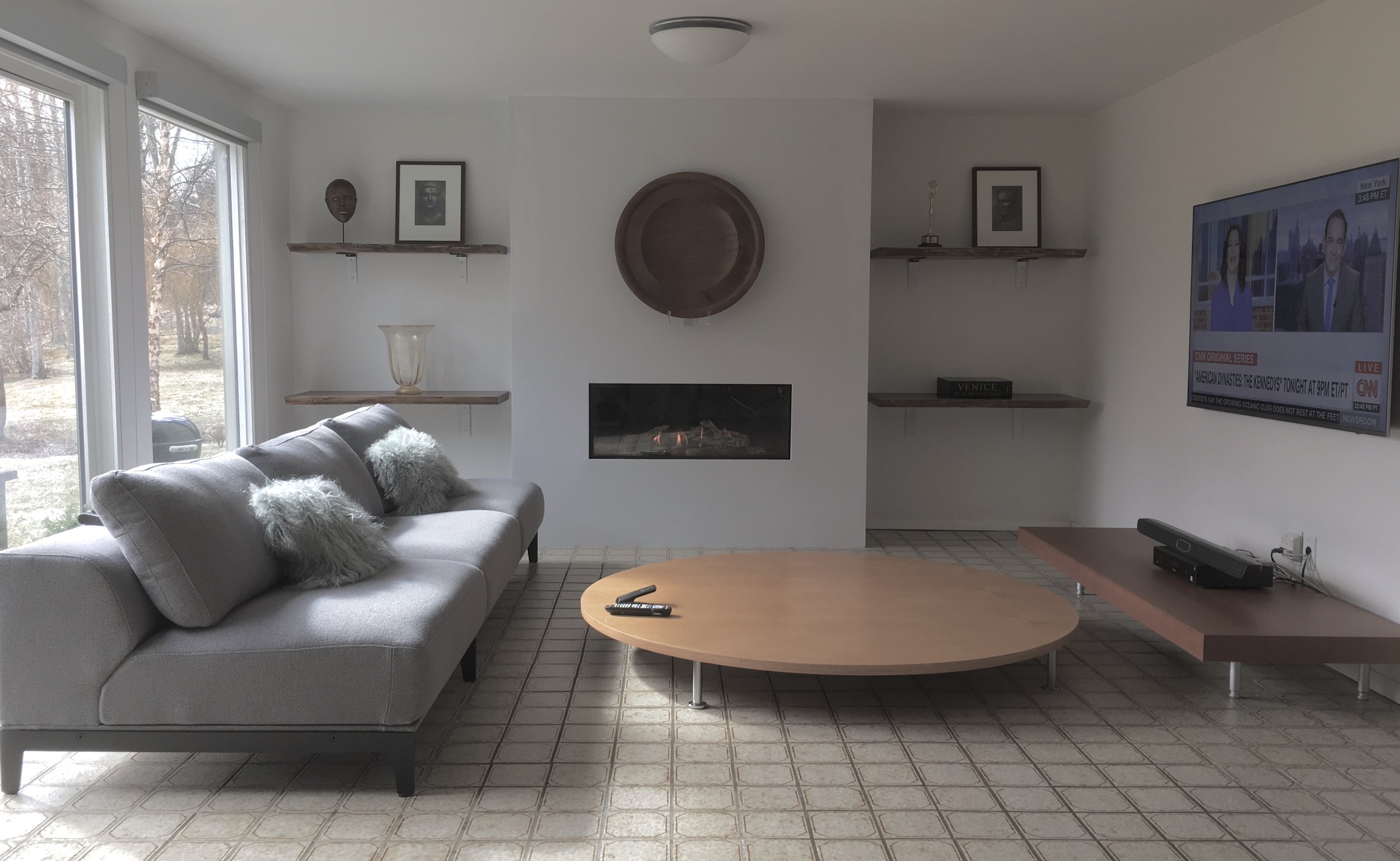 Custom Walnut Shelves
Custom, live edge Black Walnut shelves for a contemporary room in a Westchester home.
Oak and Metal Shelving Unit
Completed and installed for a great couple in their new home on the LES.
Oak and Metal Shelving Unit - Part 2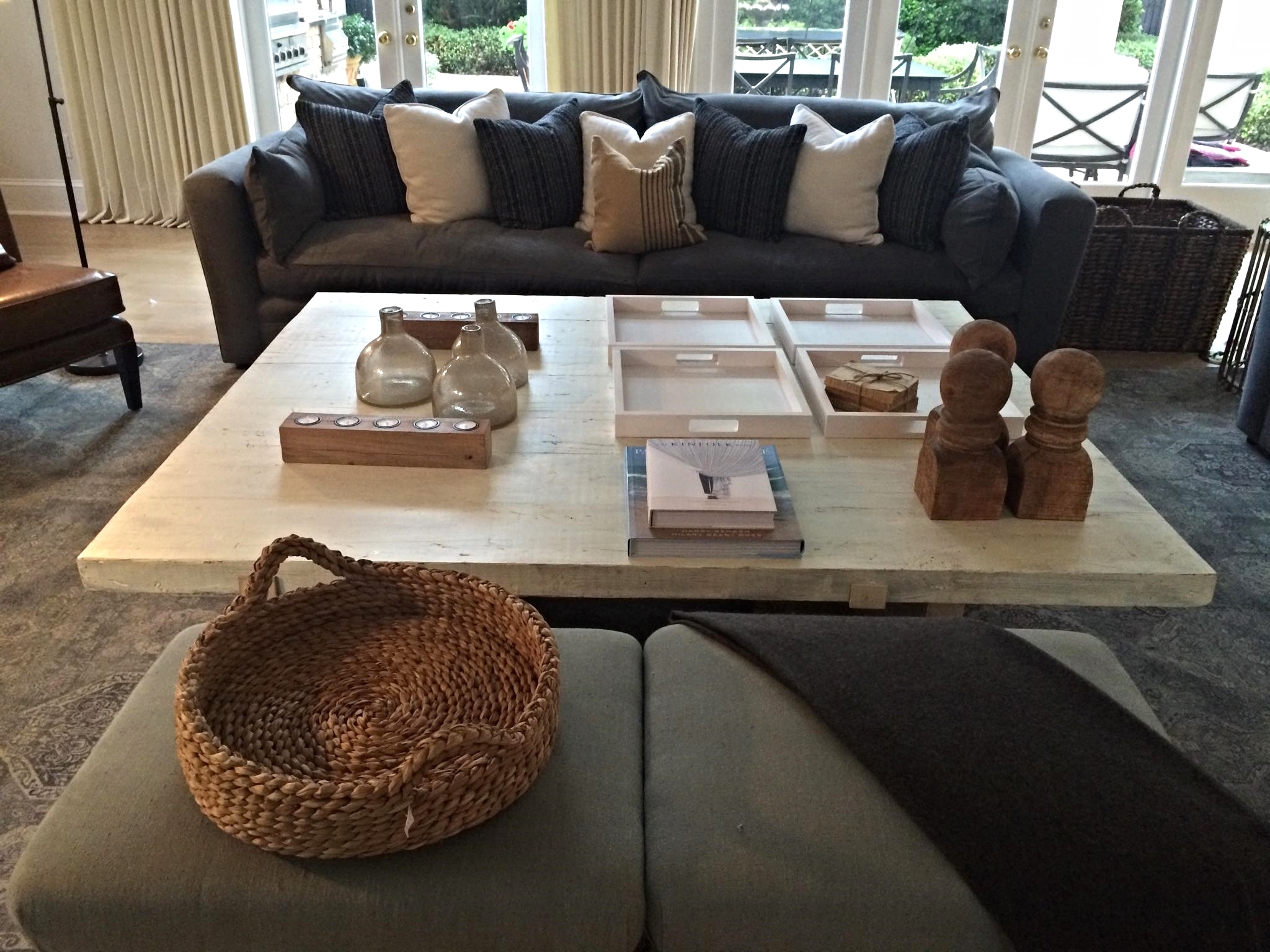 Rustic Antique White Pine Coffee Table
We created this 5 foot rustic table for a family home in Florida. Custom stain and metal accents on the table complement the casual style of the room.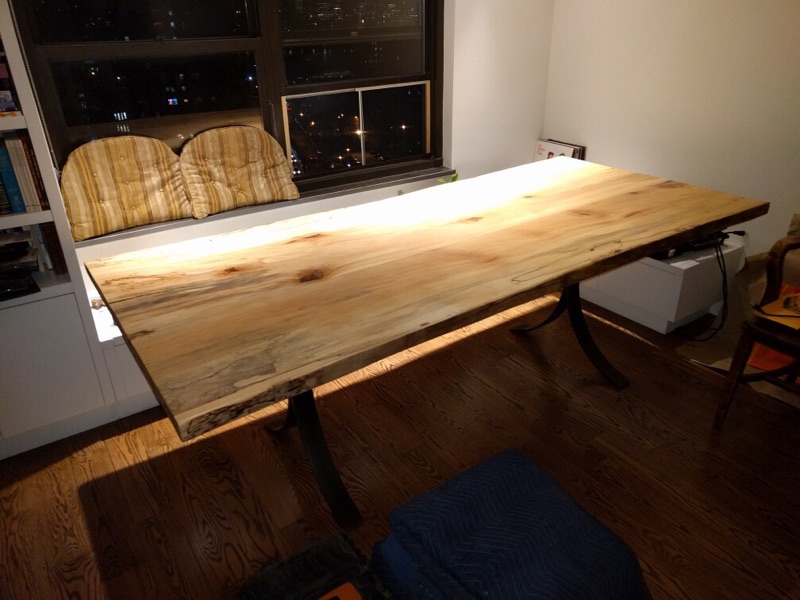 Sycamore Table
This Sycamore table in also in the hoe with the Oak shelving units.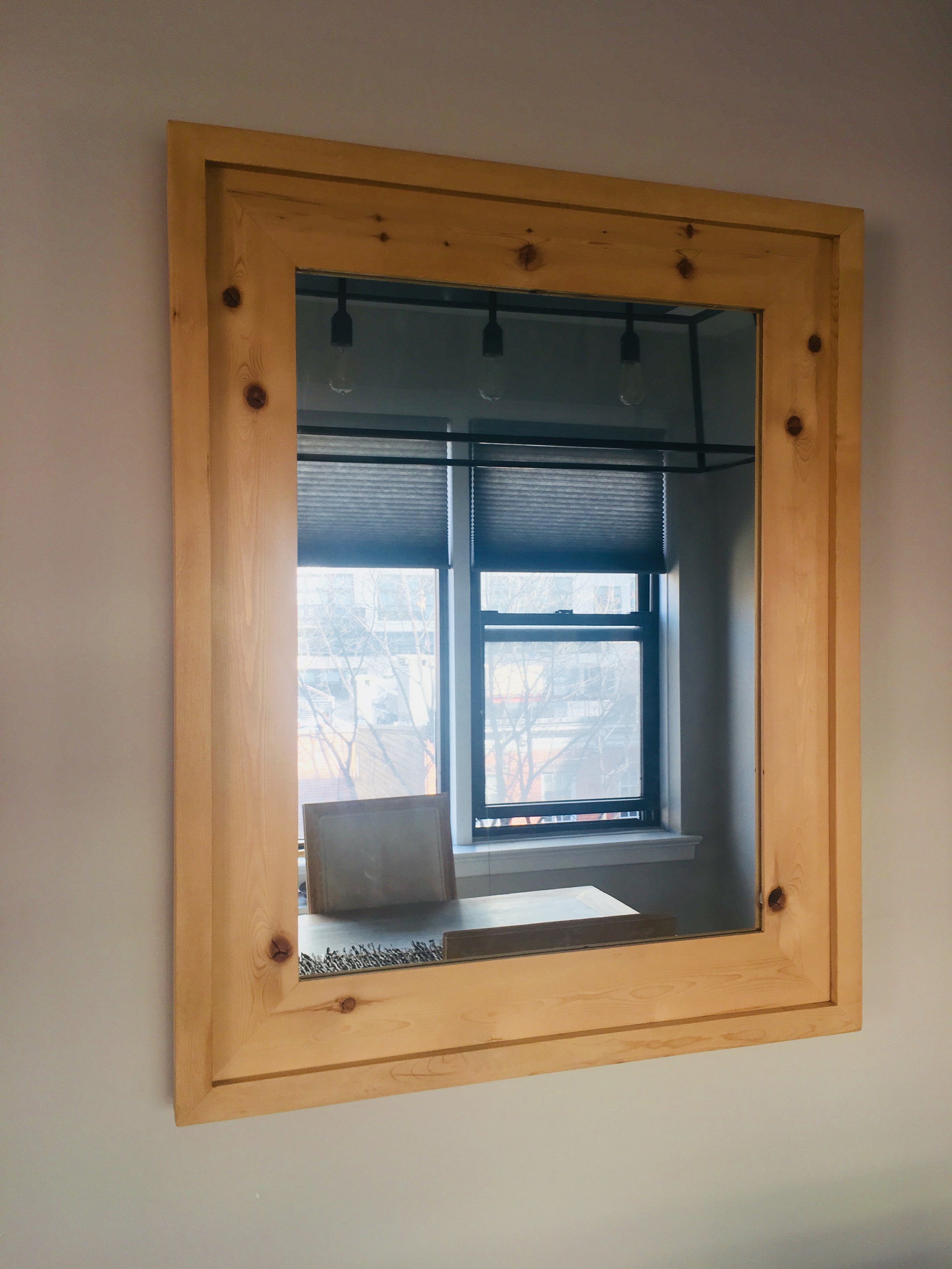 Live Edge Elm Dining Table
This elegant Elm table with wishbone legs sits perfectly in the homeowners newly renovated high rise apartment with spectacular views.
Live Edge White Oak Shelving Unit
Water Tank Wood Media Unit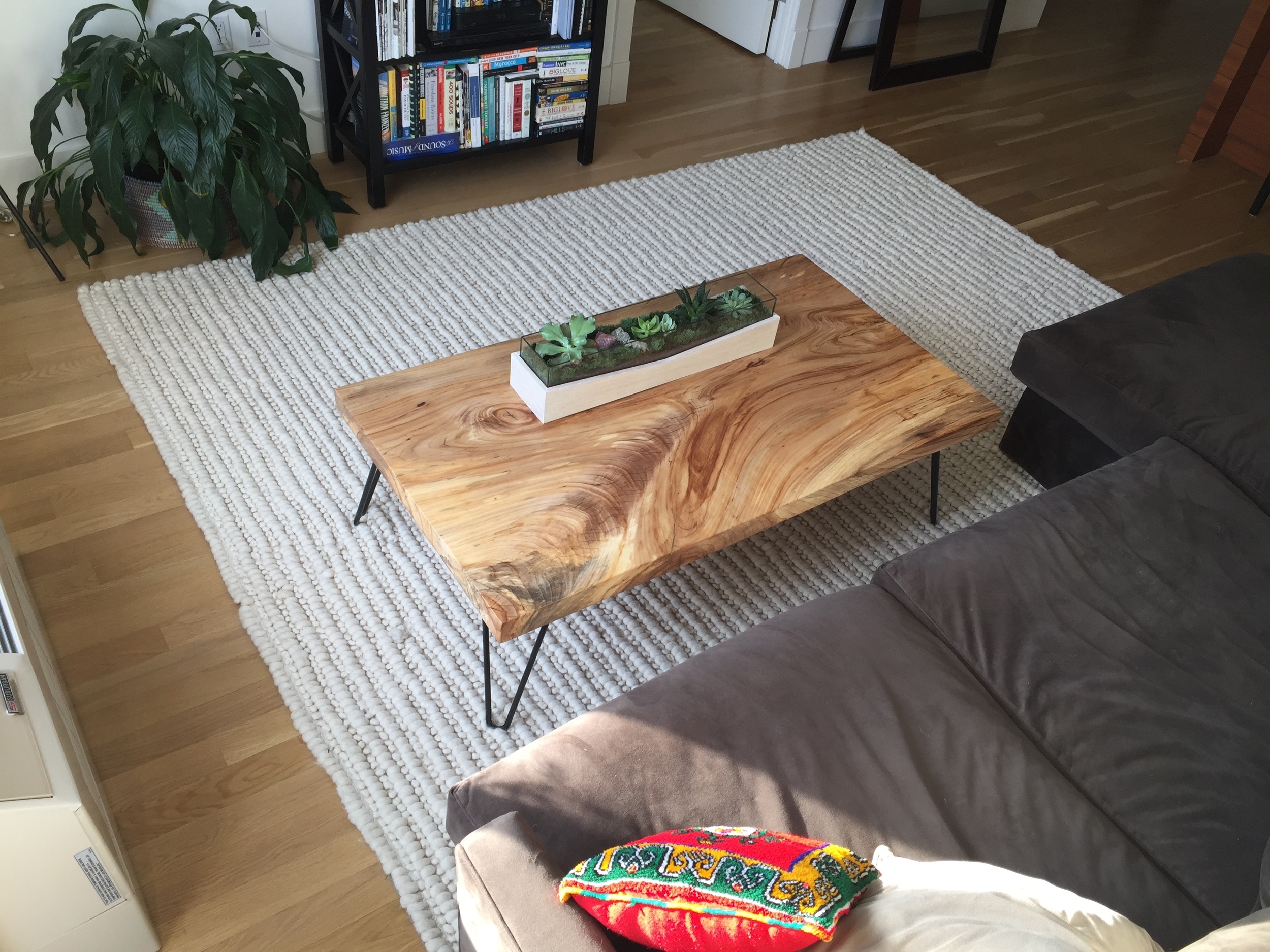 Straight Edge Elm Coffee Table
Five foot long Elm coffee table with exceptional grain properties and color. Exactly what the client ordered.
Twin Live Edge Benches
Beautiful pair of 3' long spalted Maple benches.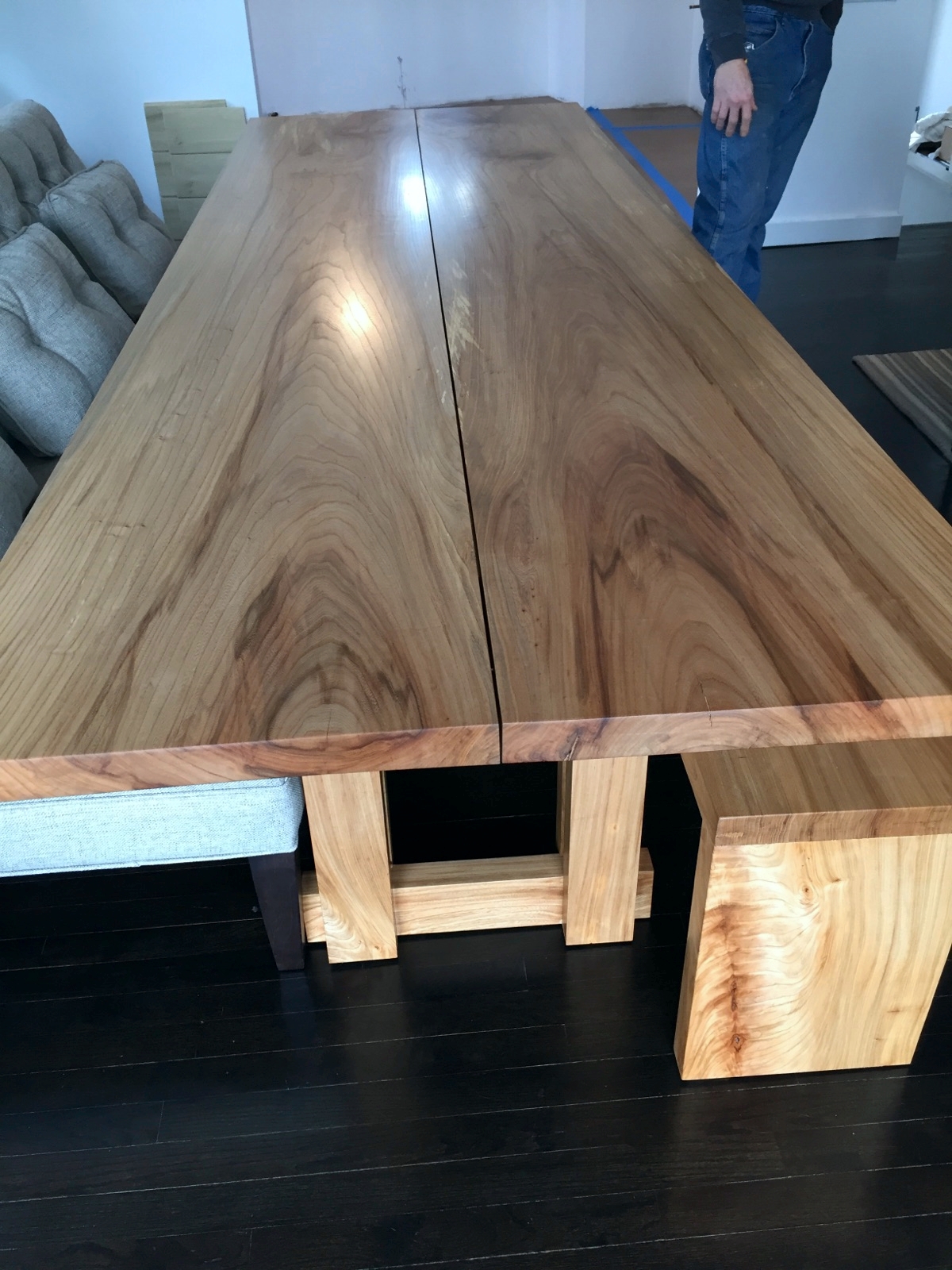 Elm Table and Bench
Client purchased the Elm slabs from us. Both the table and the bench in the following picture where created from the grain-heavy Elm. We think both pieces are spectacular.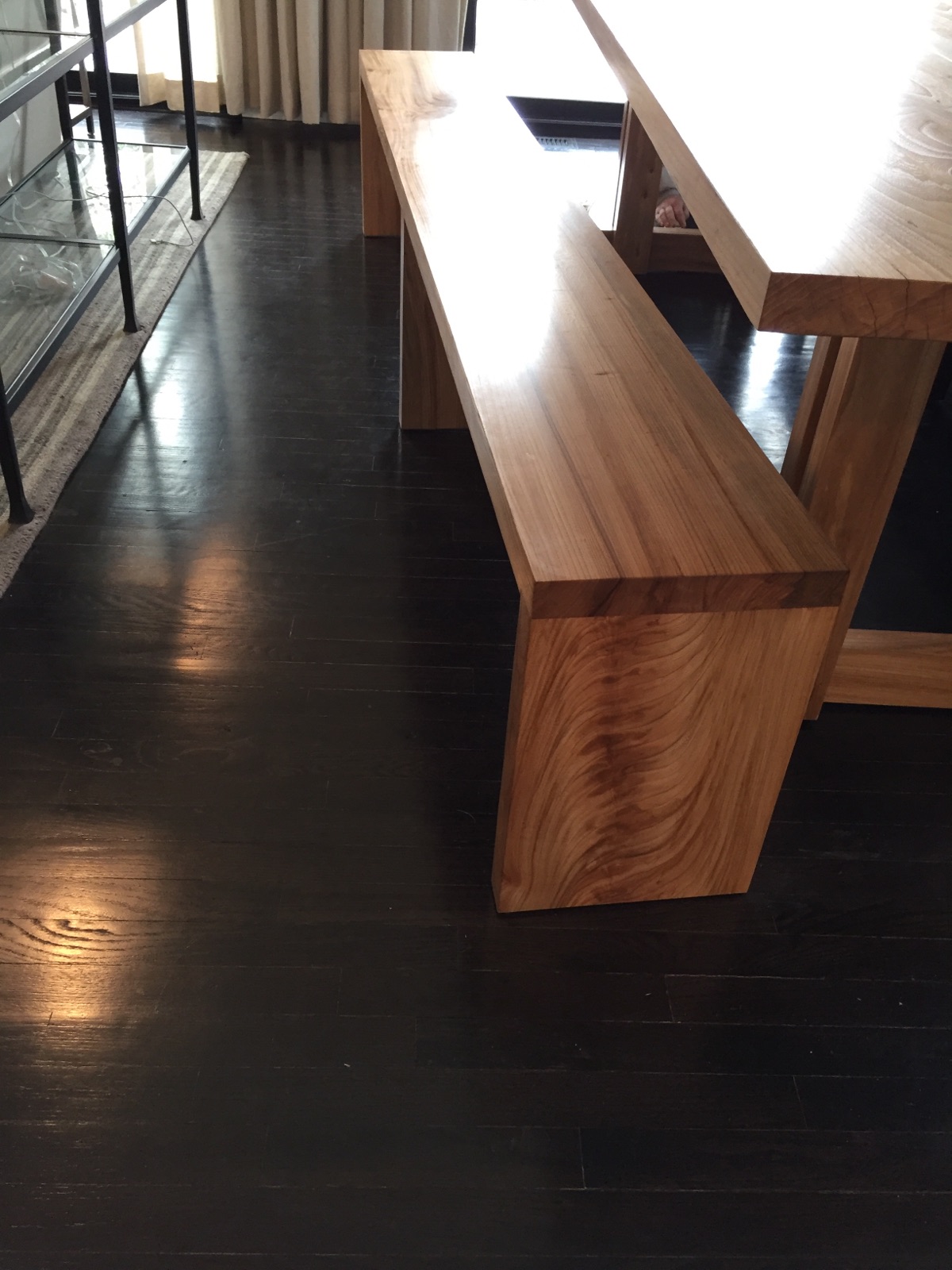 13' Long Spalted Maple Dining Table
Client wanted something big, vibrant and dramatic to go in his very large dining room. We certainly aimed to please.
Douglas Fir Table and Bench
Simple and functional Doug fir table, bench and stools for a lovely space in Cobble Hill, Brooklyn. Table is 72.5" long and the 65" bench tucks underneath when not in use.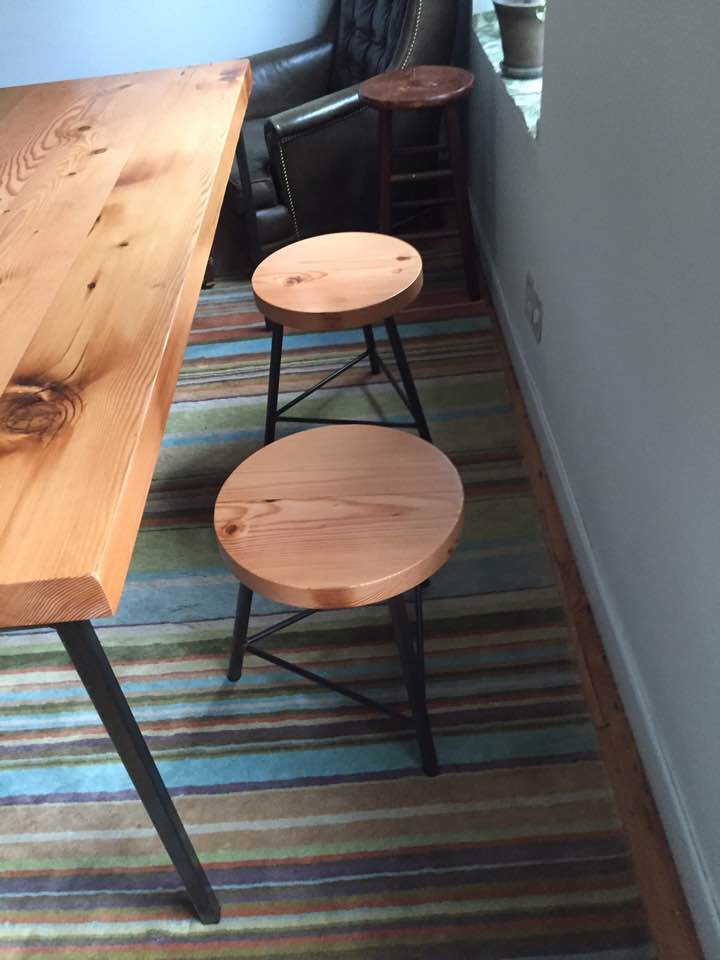 Douglas fit Stools
Pair of matching Doug fit stools to go with the table and bench in the Cobble Hill apartment.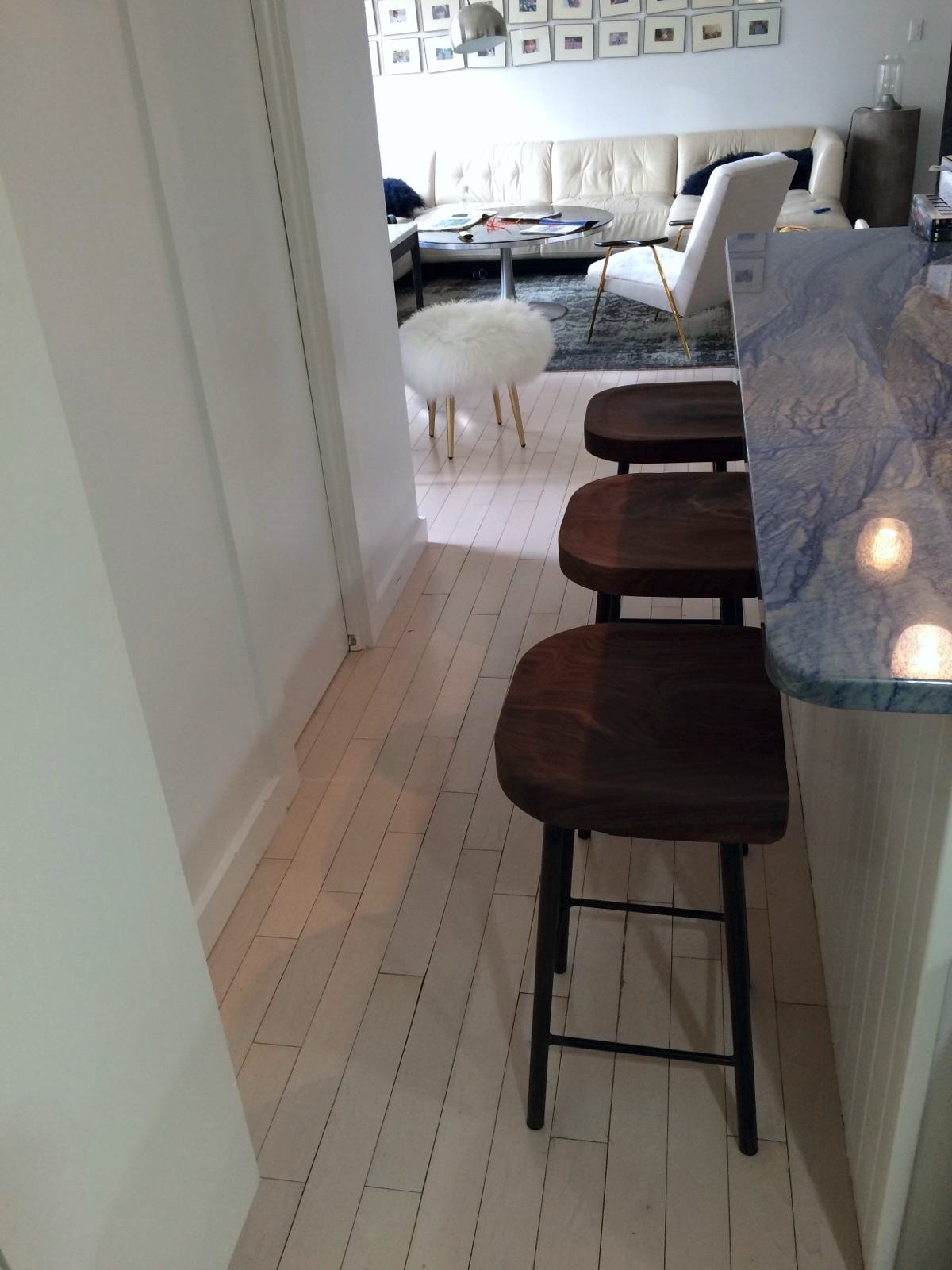 Trio of Black Walnut Stools
Client had an apartment renovation and space was reduced so Walnut stools had to be custom made to fit space.
Live Edge Cherry Table with Three Hairpin Legs
Small, live edge Cherry coffee table. Pretty grain and color.
Live Edge Cherry Coffee Table with Four Hairpin Legs
Live edge Cherry coffee table milled from the same tree as the other presented on this site. Slightly wider but no less pretty.
Walnut Coffee Table
These clients loved all the drama going on in this slab. Color, grain, sapwood, organic holes, etc. We agree that this is one 'sick' coffee table.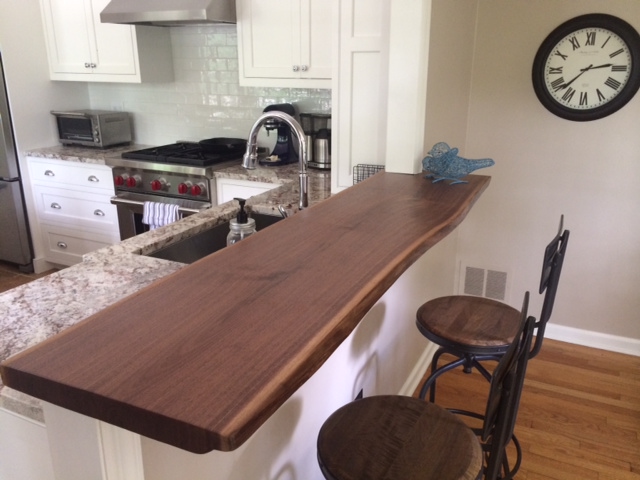 Custom Walnut Counter Top
We created this live edge custom Walnut counter top for a private residence in NJ. The whole family came to the shop in Yonkers to chose the perfect slab for their counter. The Gilsenans chose well and their top looks great!
Live Edge Elm Table with Curved Legs
Lovely 5' long Elm coffee table. One of two tables purchased for a residence in New Jersey.
Media Console
Media console created especially for a friend from the Brooklyn Flea. Reclaimed wood stained Walnut on the outside and custom Teal on the inside. 4" hairpin legs complete the look. Great color combination.
Live Edge Walnut Hallway Table
Crafted a sweet little number that needed to fit a specific space in client's home. Live edge Walnut slabs and black metal tubing.
Stained Maple Dining Table
This live edge, spalted Maple table was produced in record time. We added the butterfly and stained it a beautiful cherry tone in time for it to go to its new home in Singapore.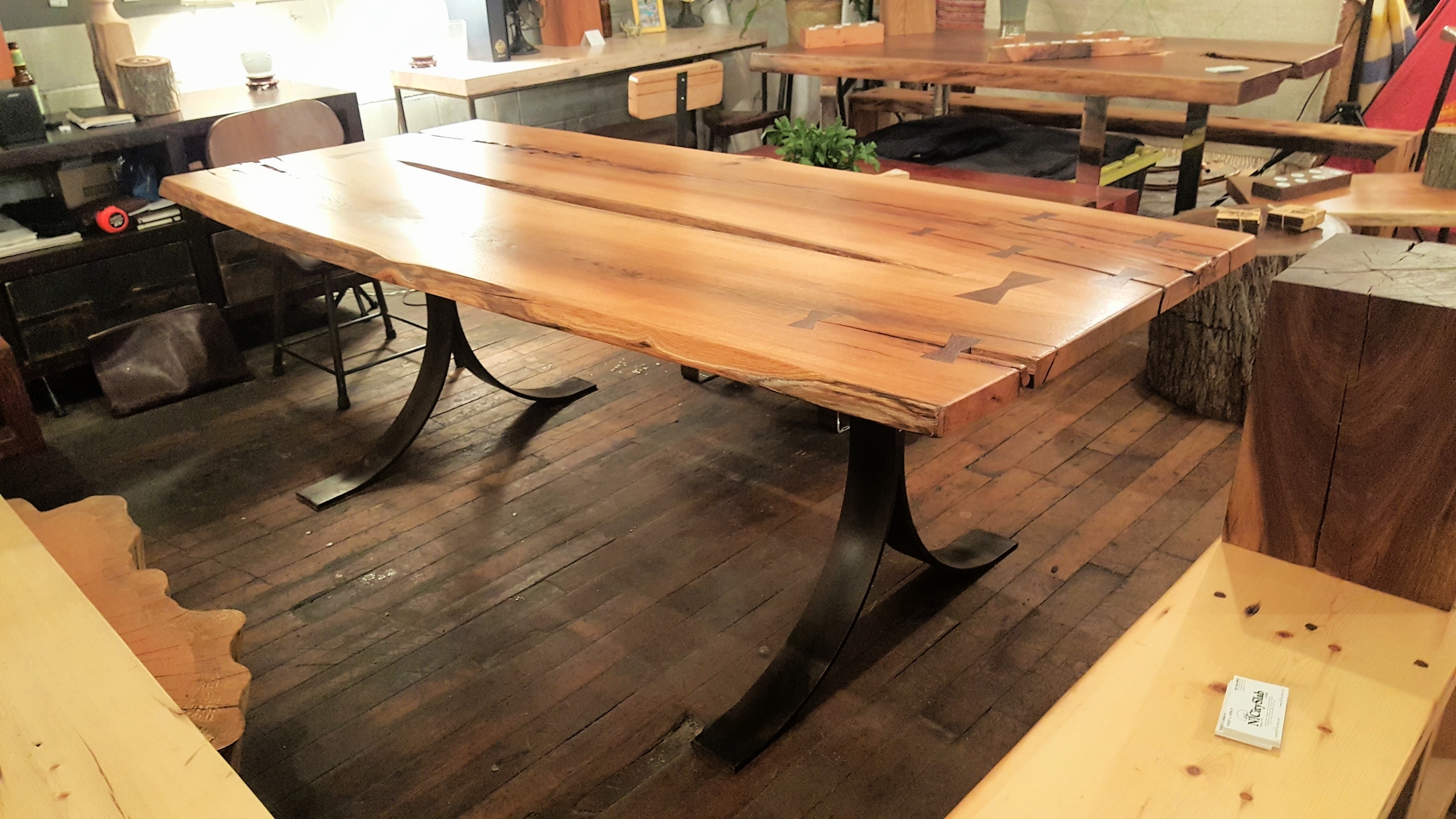 Super Storm Sandy Red Oak Table
This unique table is currently at our Brooklyn Flea booth. Two pieces of Red Oak, joined at the ends, create a one-of-a-kind table. Table has several Walnut butterflies and our signature 4" curved legs
White Pine Flooring
Sneak peek at what's to come. Clients were doing a total renovation and liked the idea of using their existing sub floors as flooring. We denailed, planed and tongue and grooved. Renovation is not completely done so stay turned for future pictures.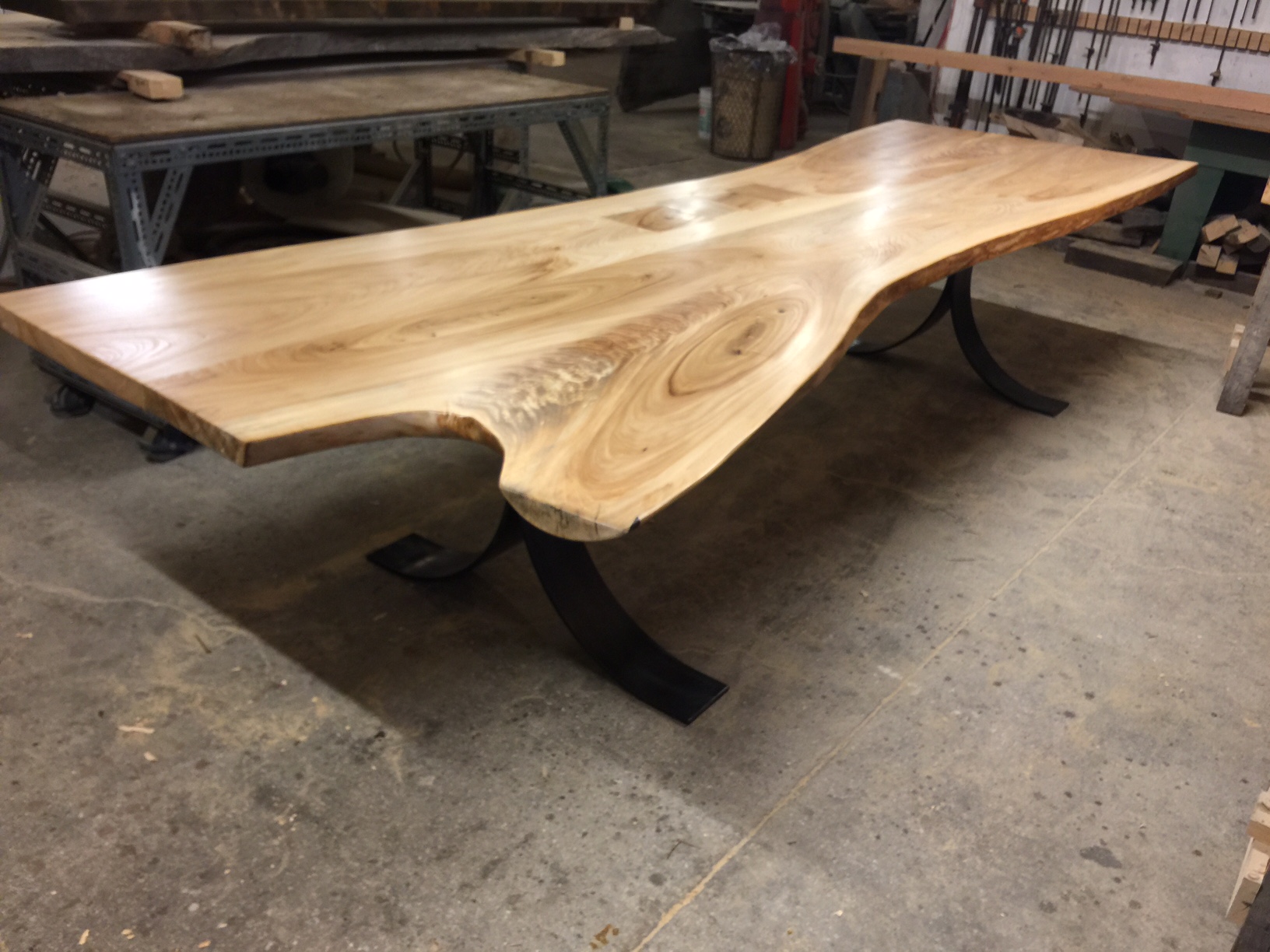 12' Elm Table with Patchwork
Beautiful 12' Elm dining table commissioned by the same client who commissioned the 5' Elm coffee table. Live edge and unique patchwork on top. 4" wide curved legs support the table top.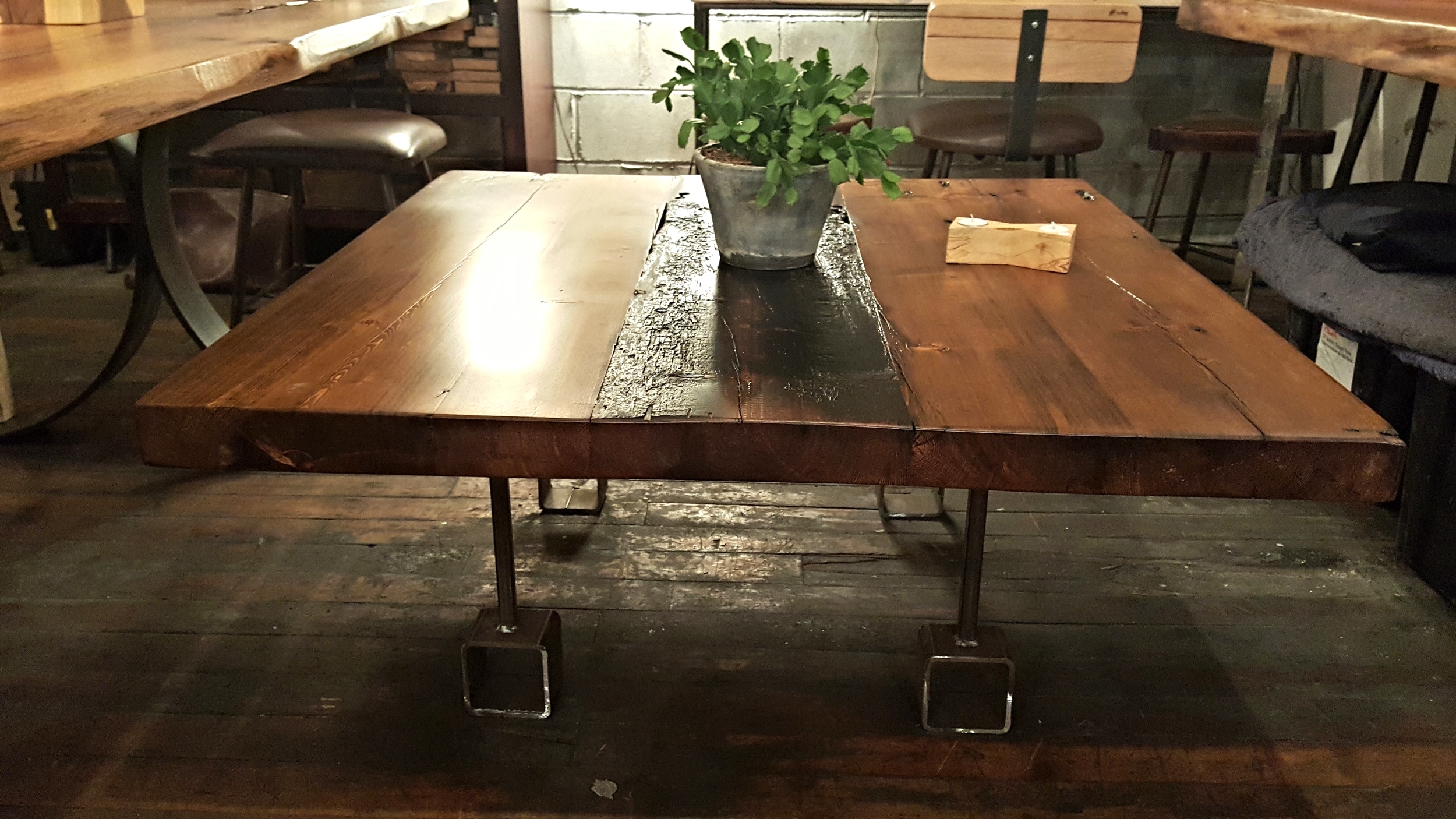 Distressed Reclaimed Wood Coffee Table
This is another piece at our booth at the Brooklyn Flea. Beautifully distressed pine. Building suffered a fire 100 years ago and middle piece shows the effects of the fire but makes for a unique table.
Round Distressed Reclaimed Wood Table
This table recently sold but we can recreate it. Old growth Pine that was stained a warm Walnut, it also features a charred middle piece.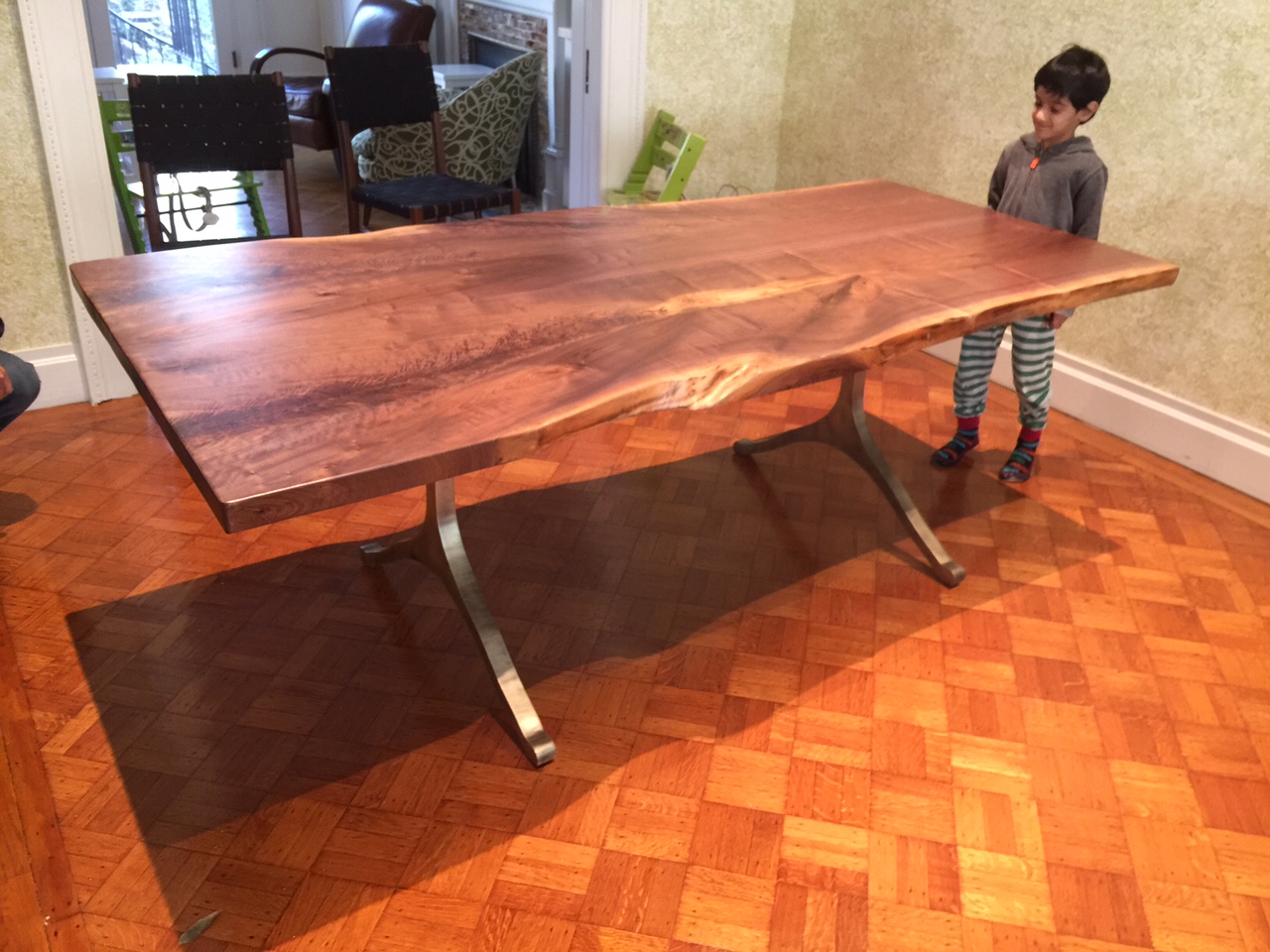 Walnut Table Top
This lovely live edge Walnut table is now ensconced in a family home in Brooklyn.
Small Cherry Coffee Table
Recently sold at the Brooklyn Flea, this compact Cherry coffee table, at 35" long, is ideal for apartment living.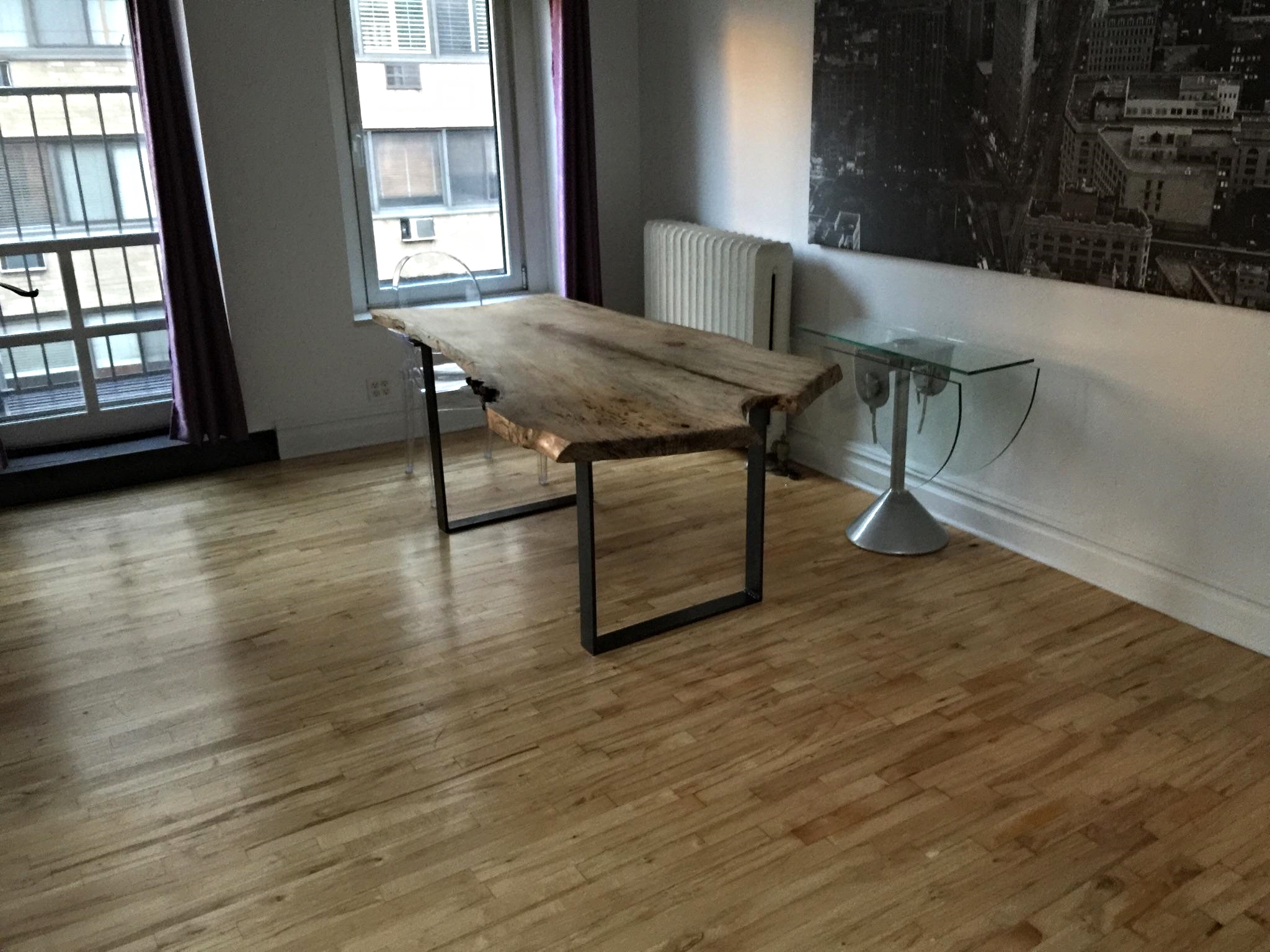 Slab Table with Custom Base
Clients purchased slab from us but did their own sanding. we provided the custom base.
Small Cherry Coffee Table
Cousin of the small Cherry table shown, this also recently sold at the Brooklyn Flea. Again, 35" long makes it an ideal piece for apartment living.
Stained White Pine Tailor's Table
This is the second piece we have crafted for Cielo - a tailor's table.
Stained Sycamore Coffee Table
Whimsically beautiful Japanese Maple slab coffee table with gorgeous grain and spalt. Cutie pies not included.
Subtle Edge Walnut Dining Table
7' Walnut table with our very popular curved legs.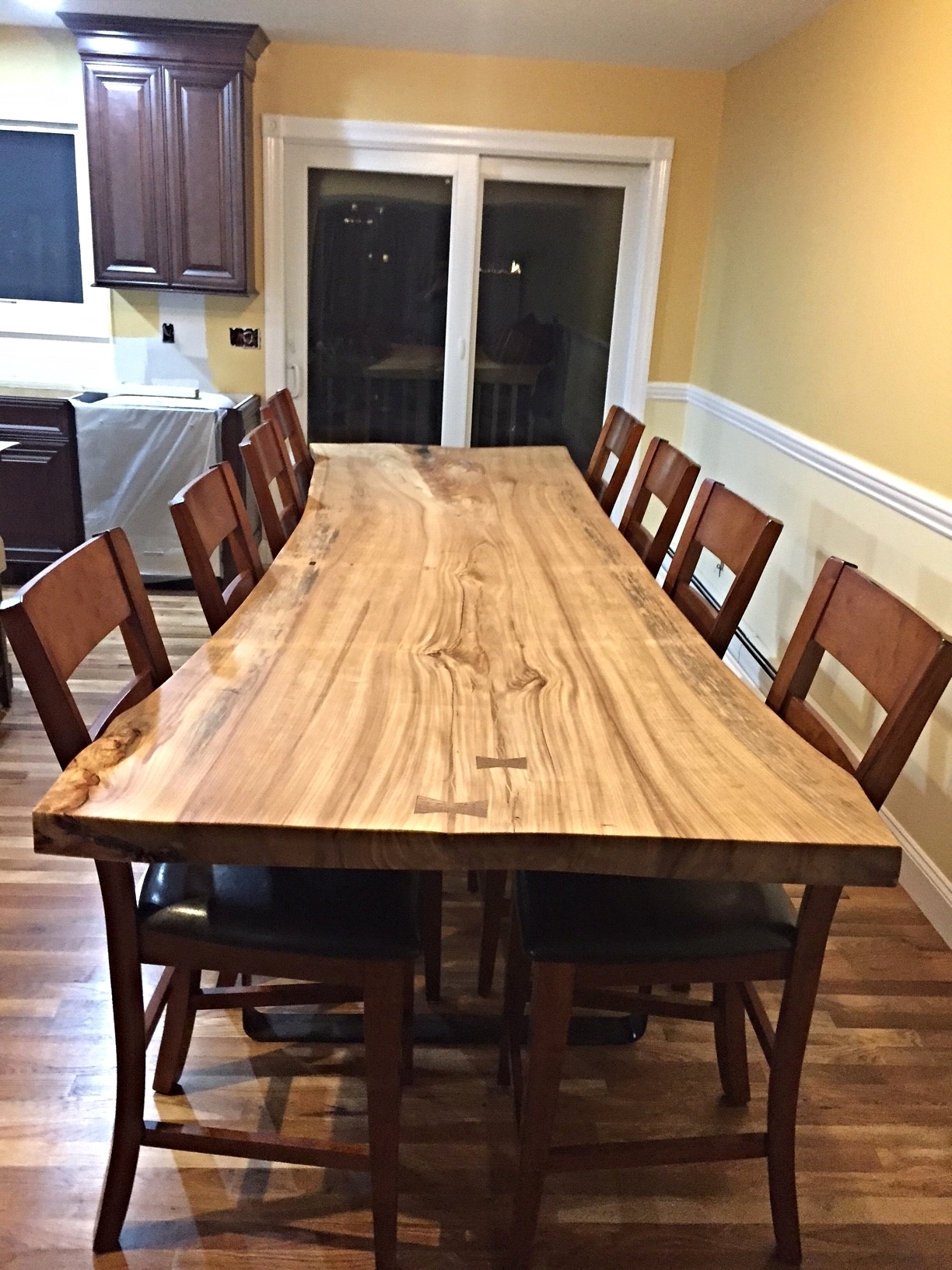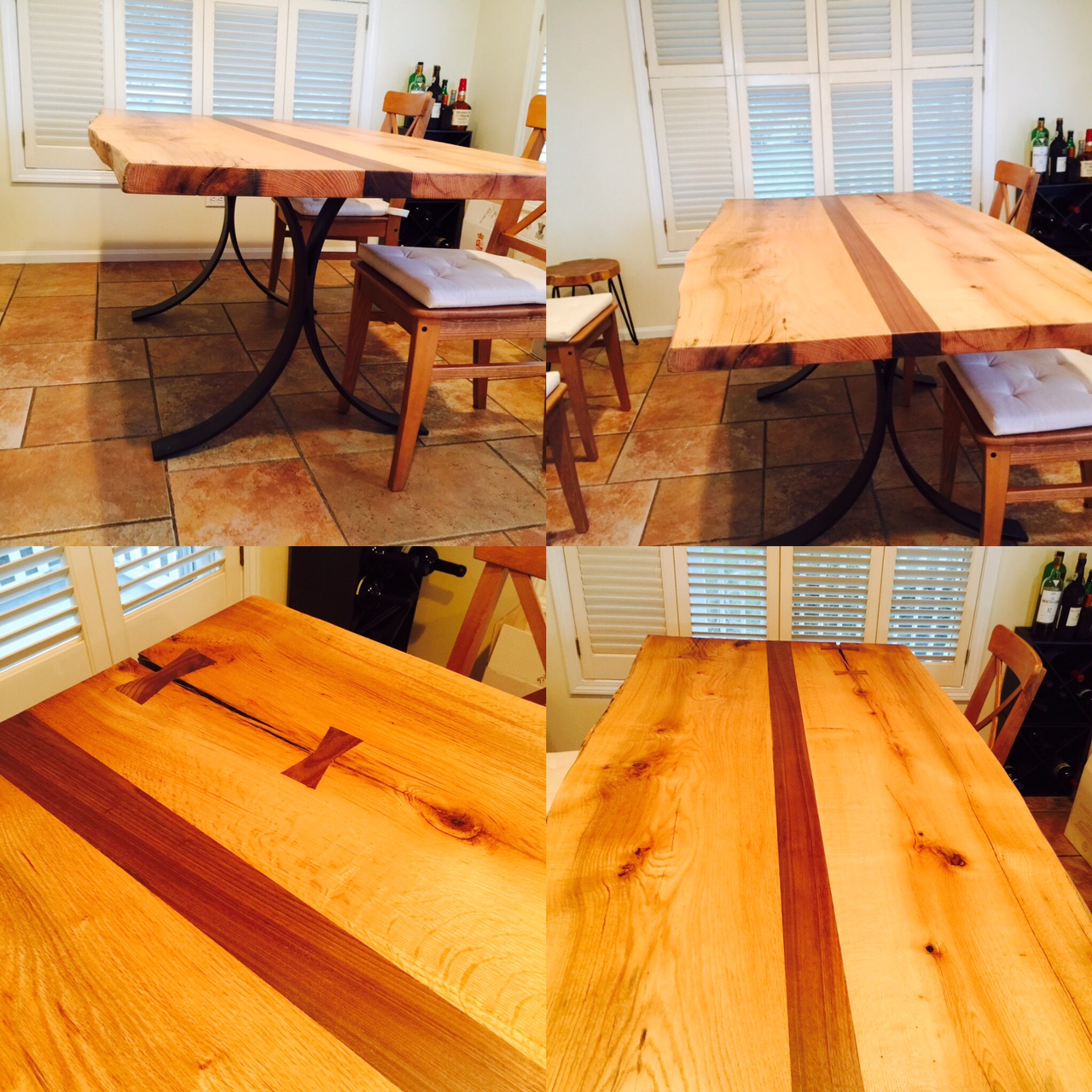 Hickory Table with Walnut Strip
Our clients saw a similar table for one of our commercial clients and asked us to reproduce it for their home in Piedmont, NY.
This is one of two tables (the other is a Walnut dining table) we crafted for for them. Both tables have our signature curved legs and both look great in their new home.
Shelter Island Walnut Waterfall
We built this lovely waterfall island with rolled steel legs and a chrome finish and added Maple butterflies.
Walnut Table and Douglas Fir Bench
A high-rise home in Williamsburg with great views is now home to our Walnut table and reclaimed Fir bench with Walnut splines. Gorgeous.
Black Walnut Computer Desk
Beautiful live edge Black Walnut computer desk, made out of the trunk of a huge tree that we picked up in NY. A great addition to a home office in NJ.
Maple Table and Vintage Tractor Seat Stools
We built an 8' x 32" live edge Maple table and three matching vintage hand carved tractor stools. Tables and chairs were all made from the same log.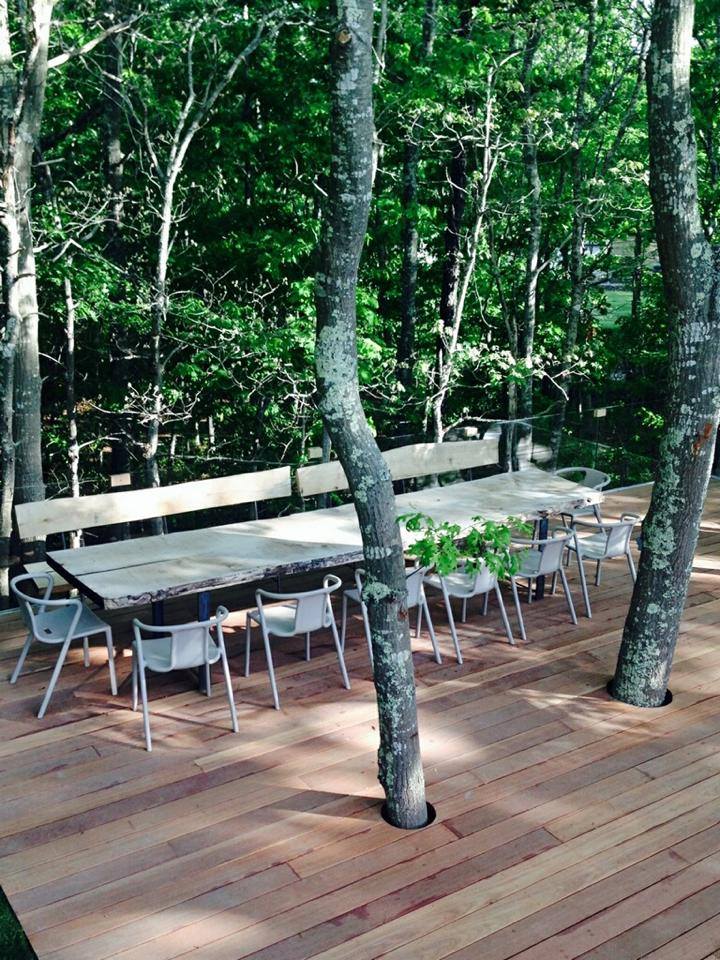 Walnut Table and Hickory Benches
We used a 14' x 34" walnut board for the table and two matching hickory slabs for the benches. They fit right in in bucolic, upstate NY.
Walnut Table with Maple Butterflies
Impressive 9' Walnut table crafted from the first Walnut tree we souced in Albany, NY. We had to make two trips (with our trusty trailer) to get the whole tree.
Walnut Counter Top
This beautiful 13' live edge slab counter top now resides in Bedford, NY.
Walnut High Bar
This Westchester tree high bar, with beautiful curl and grain is now displayed in a brownstone in Harlem, NY.
Ash Table with Walnut Border
Small but very impressive, this Ash table with Walnut border is in a home on the Upper Westside of Manhattan.
Walnut Counter Top
Sitting pretty in Beacon, NY.
Ash Table with Nickel-Plated Legs
8.5' x 36"-42", single slab Ash table with multiple butterflies in Jersey City, NJ.
Walnut Coffee Table with Nickel-Plated Legs
Created especially for an auction sponsored by the Hudson Valley Shakespeare Festival, this stunning table fetched $8000!
Walnut Slab Table
72 x 32, bookmatched Walnut table with rolled, nickel-plated legs in a Bushwick home.
Hurricane Sandy Oak Table and Bench
We built his Oak table and bench with matching base for a client in Long Island. The tree had been in the family for years until it fell on the owner's uncle's house dying Hurricane Sandy. He saved the log, had it milled and dried and kept it until he found the right builder. We were very happy and privileged to have had the opportunity to work on this project.
Live Edge Walnut Table
We crafted a live edge walnut table for some great clients and design team in Williamsburg, Brooklyn. This 10.5' branch from a 52" diameter tree in Mamaroneck NY, was more than 200 years old and in failing health when it was felled.
Walnut Bench
Pretty and functional Walnut entry bench.
60 x 17
Walnut Console Table
When she spotted it at the Brooklyn flea, she knew it had to be hers. It took some months of work, but it was the right piece for her New Jersey townhouse.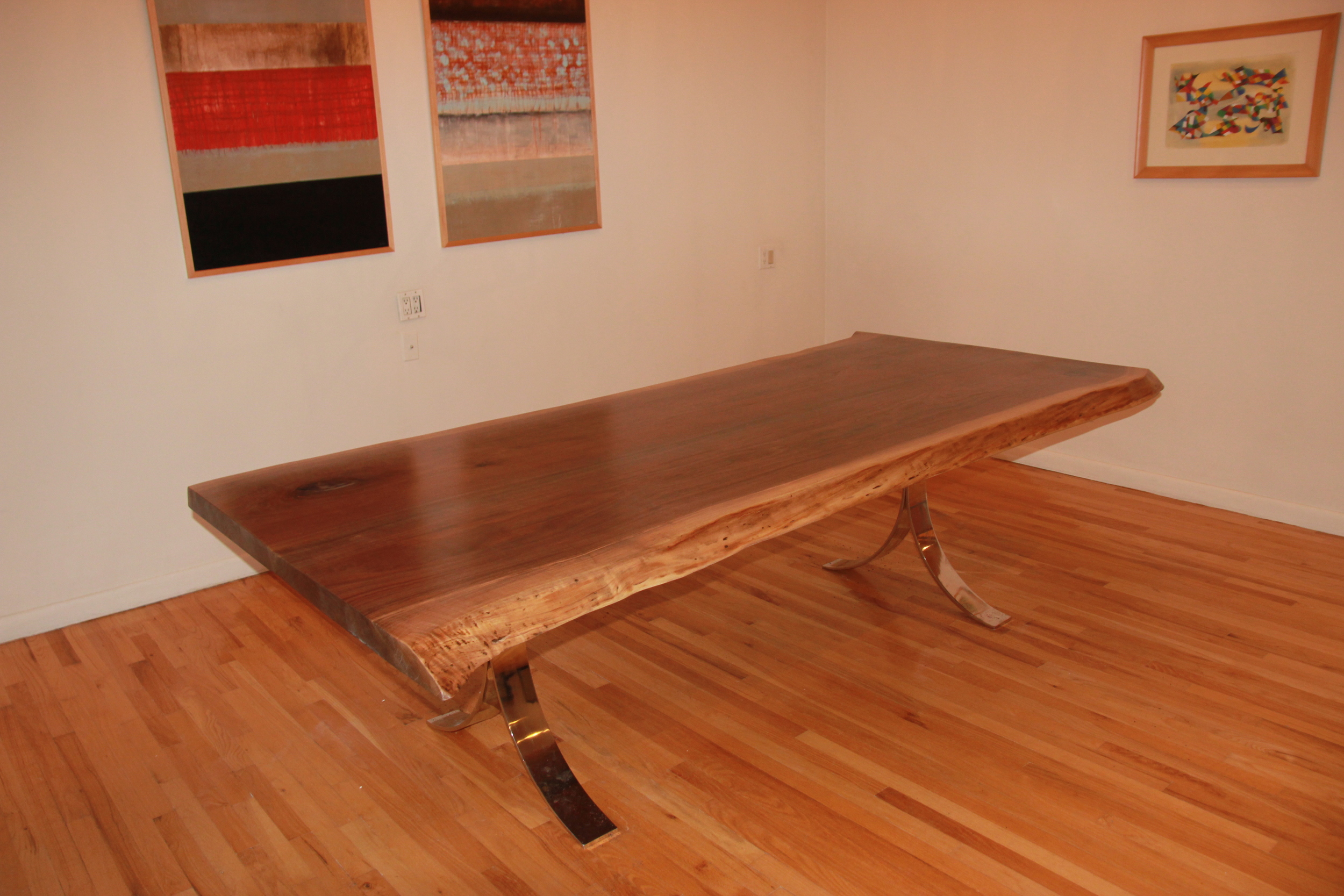 Live Edge Walnut Table with Nickel Plated Curved Legs
45" x 103" this Walnut table was a hard one to crack, it took time and lots of work but well worth the trouble.
Burled Ambrosia Maple Table
This is a stunning burled Ambrosia Maple table with our signature rolled, solid steel, chrome plated legs. This stunning table now resides in Stuyvesant Town.
6' 1/2" x 29"
Maple Table
We crafted this gorgeous 9' x 34" Maple table with custom metal base just in time for Thanksgiving 2014.
Walnut Head Board
We built a live edge walnut head board and installed it in LES apartment.
Walnut Table
We crafted a 72 x 42 live edge Walnut table and White Pine bench for the nicest people in Crown Heights.
Cherry Coffee Table
Upper Eastside Cherry coffee table with Ash legs.
Live Edge Table
8' x 42" live edge, book-matched table can now be found in Chicago,
Barn Door
We built a 8' x 4' custom barn door.
Walnut Dining Table
Walnut Dining Table with rolled 1/2 x 3 solid steel legs, with patina'd finish also in Chi Town.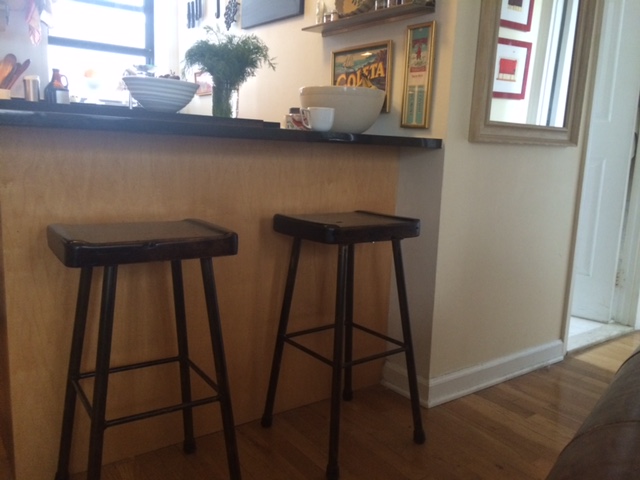 Walnut Bareback Stools
Matching Walnut stools. As with all our pieces, all wood and metal work done in-house.
Single-Slab Walnut Dining Table
Most elegant single-slab table crafted out of a 150-year old Walnut tree from Old Lyme, CT.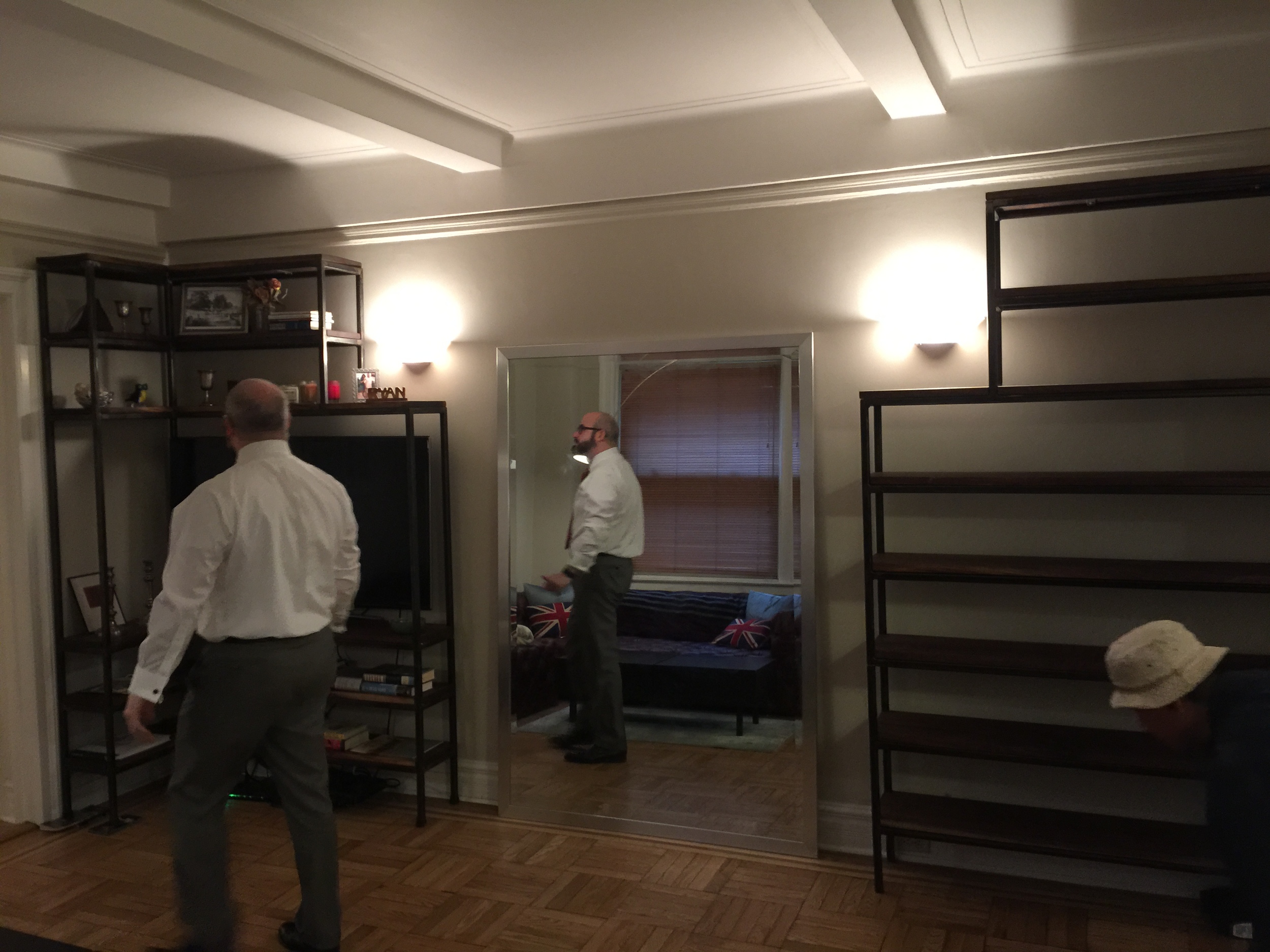 Custom Walnut and Metal Bookshelf
This Walnut and metal bookshelf was designed by the client. He did a great job except that he forgot to measure the entryways and the piece was too big! We brought it back to our shop and cut it in half. Even at half the size it is still an impressive unit.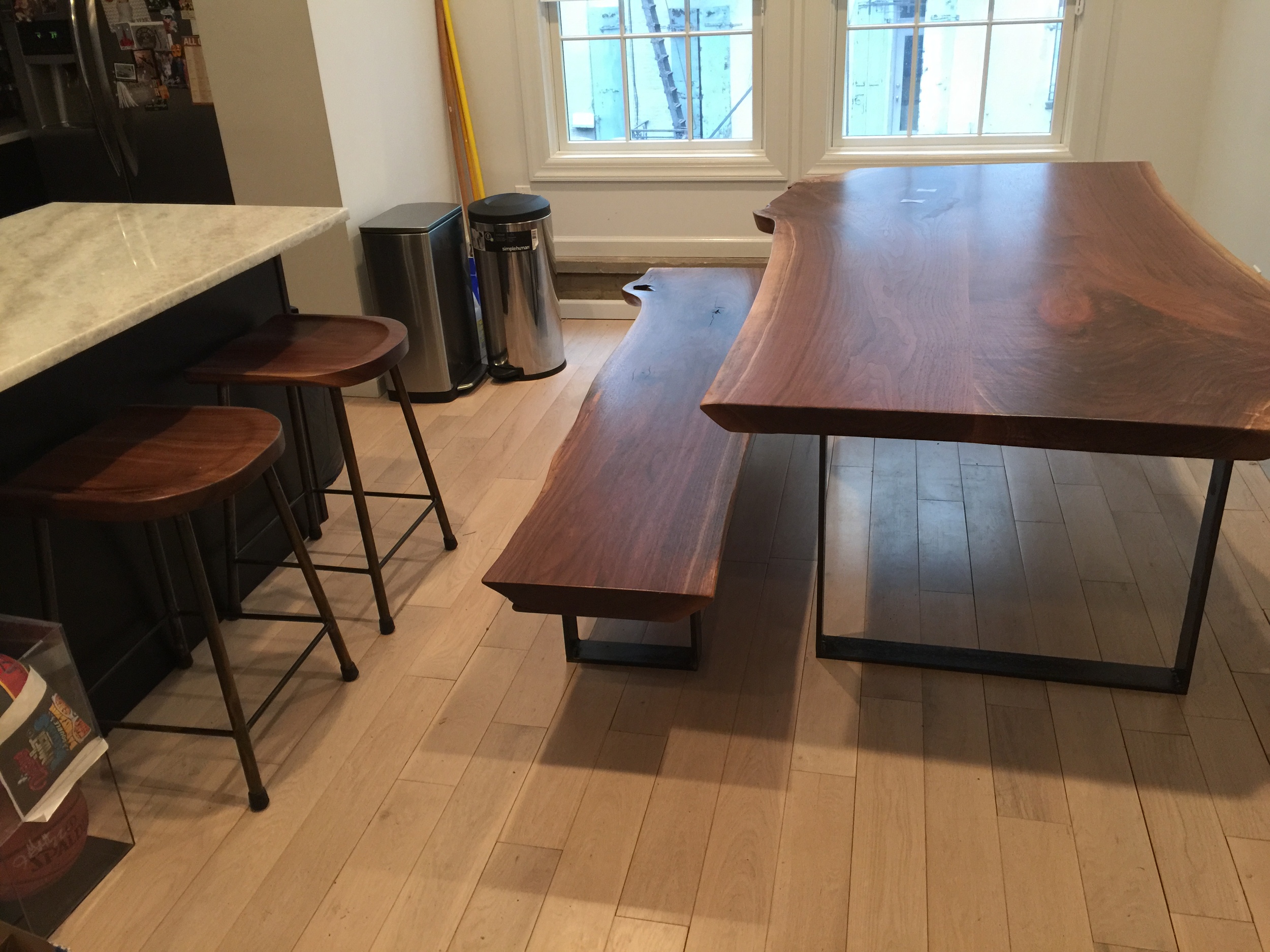 Walnut Table, Bench and Stools
Spectacular set of Walnut table, bench and stools all crafted from the same tree sourced in Oneida, NY. These pieces are now living it up in Chelsea.
Twin Cubes
Stained White Pine cubes perfect for smaller NY spaces.
Walnut Stained Oak Table with Curved Legs
Elegant Walnut-stained Oak table with curved legs for a Hamptons home.
Live Edge Walnut Table
Not as big as some of our Walnut tables but no less lovely.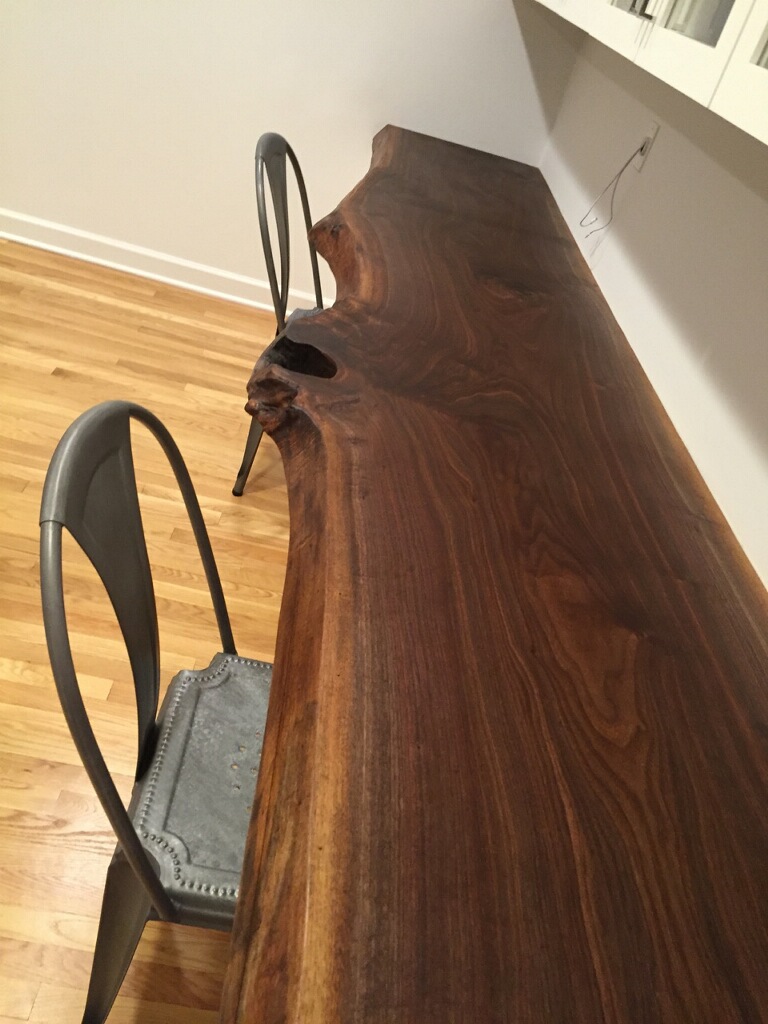 14' Walnut Slab Desk
A beautiful 14' Walnut slab is now a functional work space for a young family in Scarsdale, NY.
Southern Yellow Pine Table with Walnut Border
This very simple Southern Yellow Pine table was painted white and then we added a Walnut border for some contrast. Works well for the busy family in Brooklyn who commissioned it.
Ebony Stained White Pine Table and Bench
A lovely Brooklyn couple who was downsizing commissioned this ebony stained White Pine table and bench with gunmetal-colored legs. It turned out so well, they purchased two other benches.
Live Edge Walnut Table and White Pine Bench with Walnut Splines
Walnut Counter Tops
New flat reno on Kent Ave. We made the Walnut counter tops and a couple of other pieces for the client's new home.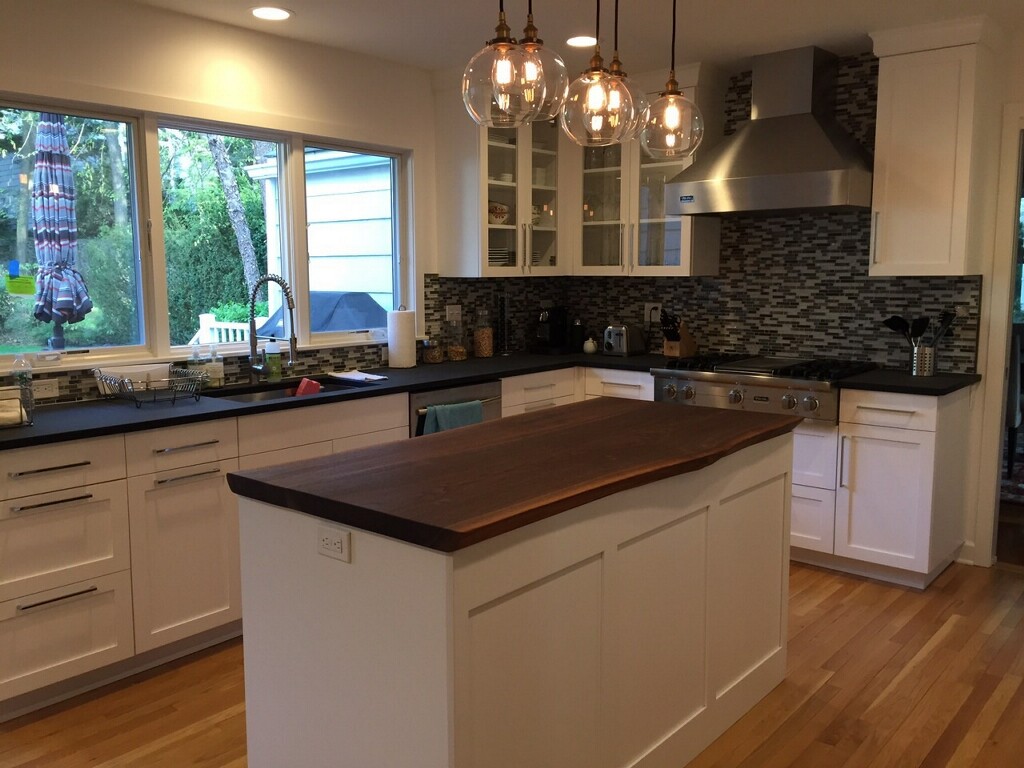 Walnut Counter Top
Walnut counter top in the same home as the 14' Walnut slab desk.
Walnut Stained White Pine Rolling Bed Table
Built for multi-tasking right from bed...
Live Edge Walnut Counter Top
14' Walnut counter top on its way to Williamsburg.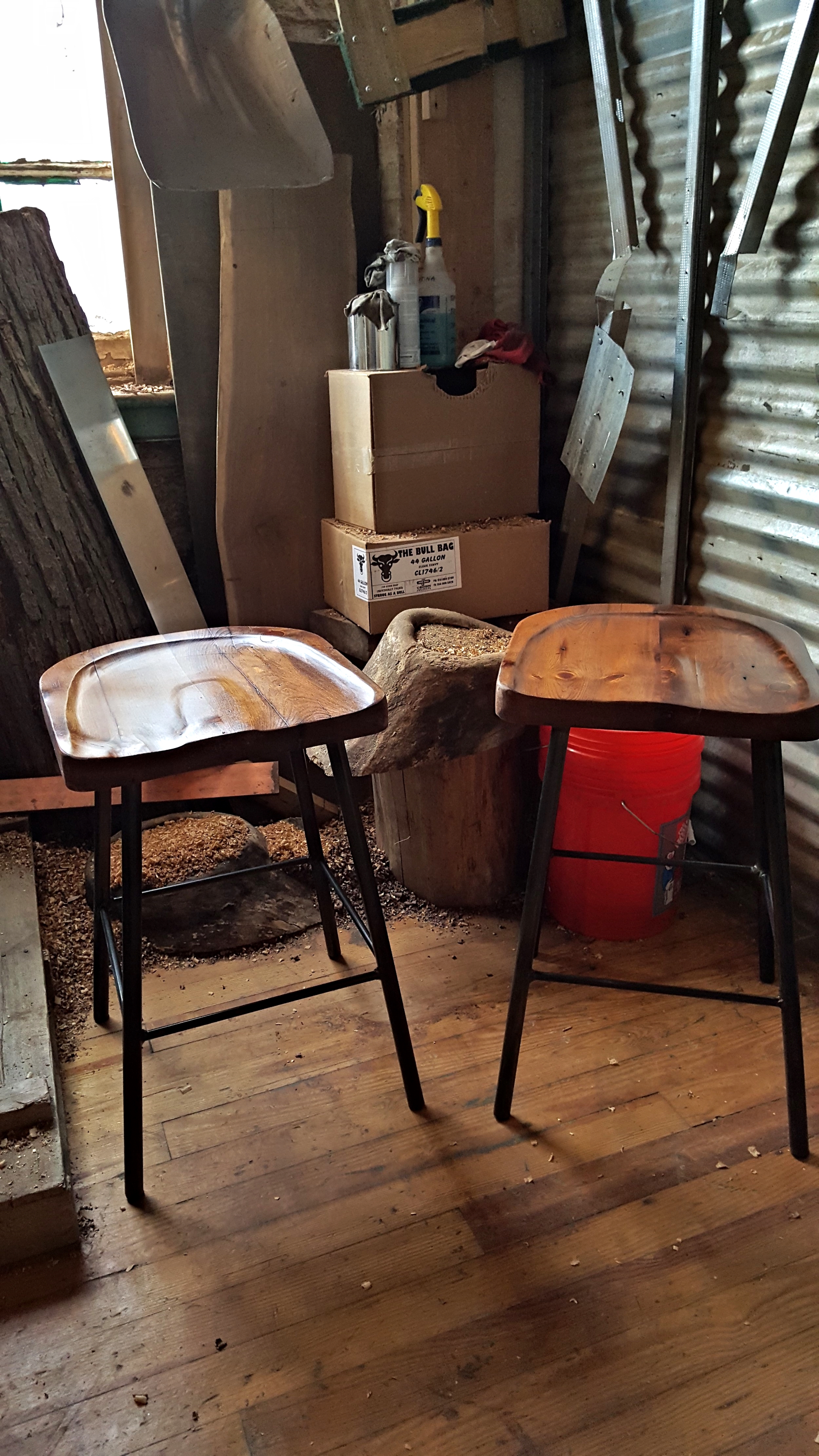 Custom Tractor Seat Stools
26" high with bases that were patina'd to give it an aged look.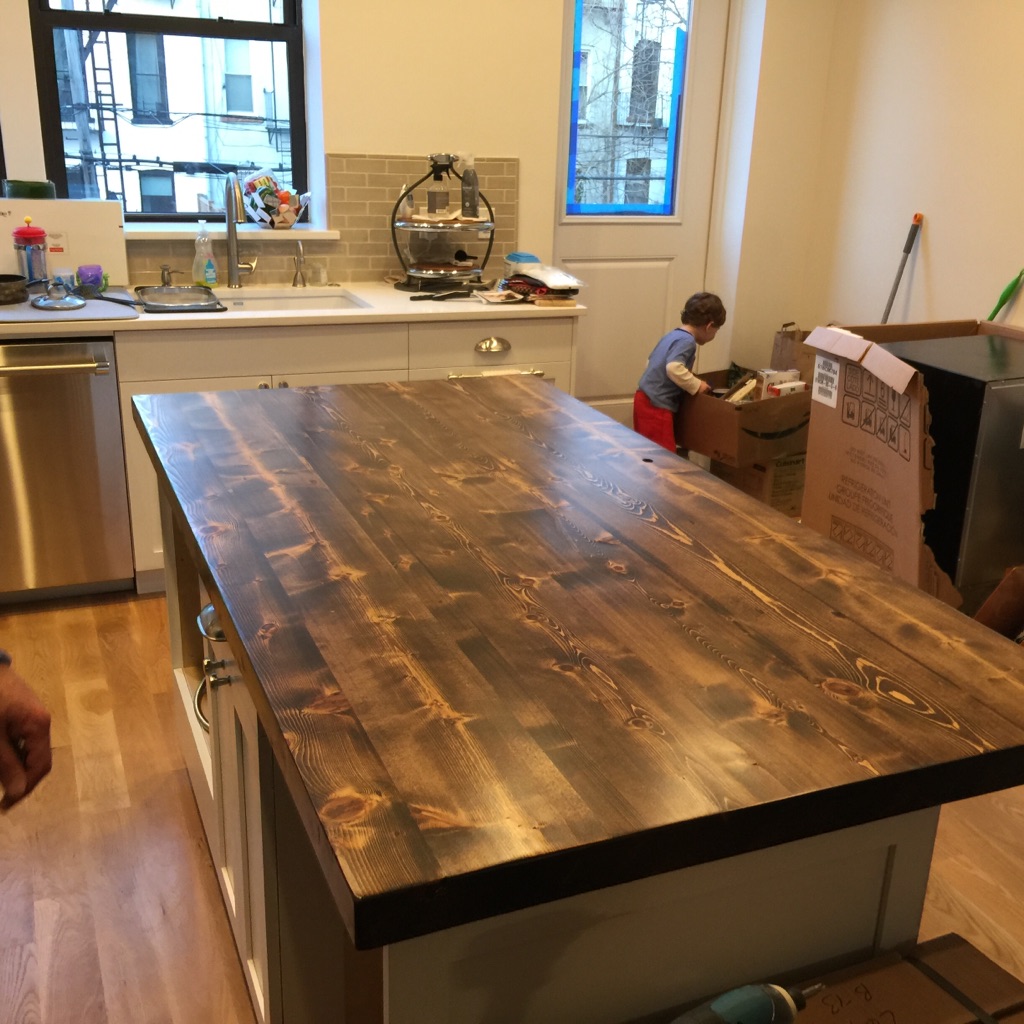 Old Growth White Pine Island Top
When he renovated his 1899 Park Slope townhouse, the owner loved the idea of re-purposing some of the White Pine floor joists.
It's a great way to showcase some of the history of his home.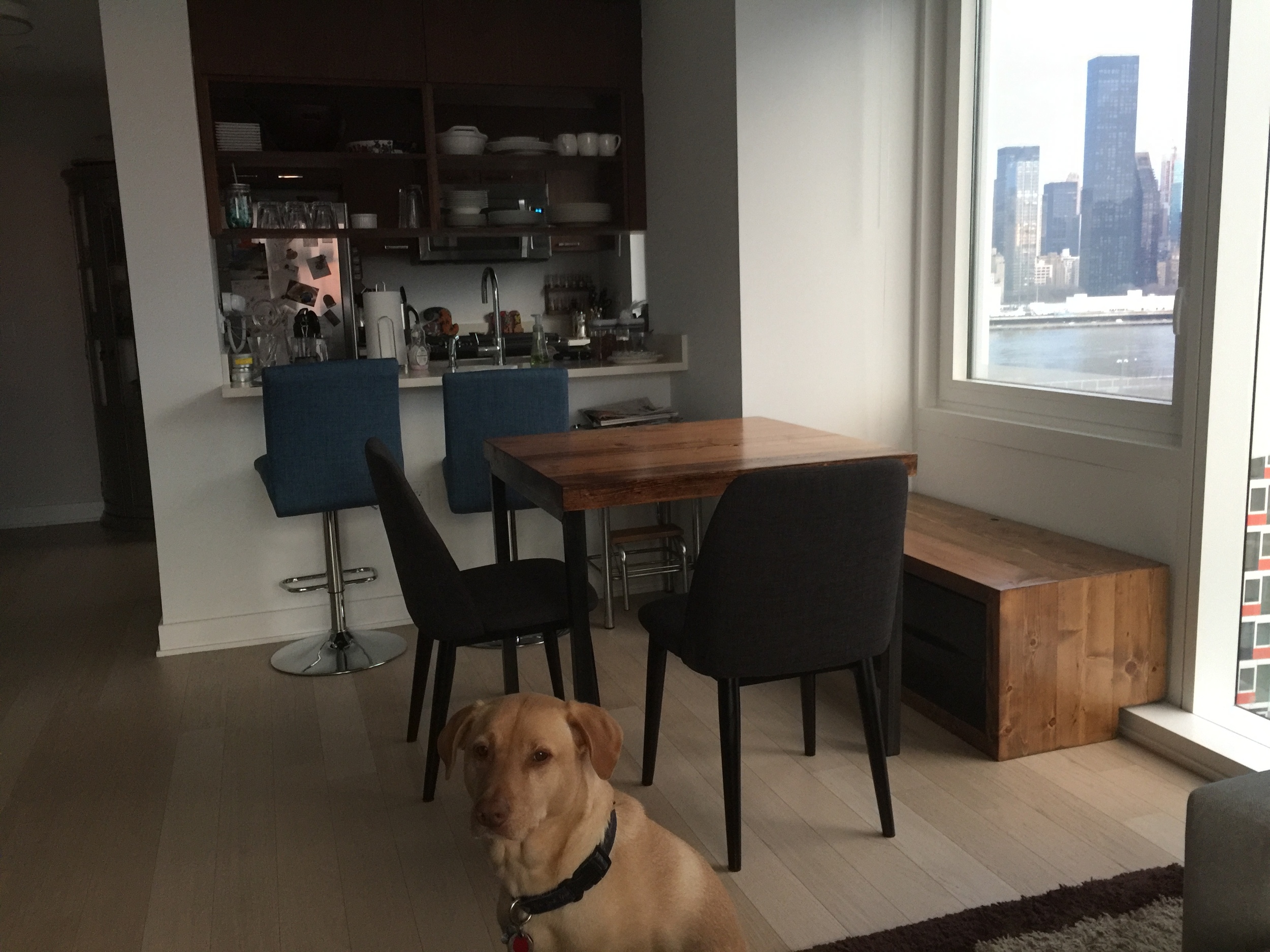 White Pine Table and Storage Bench
We custom built the table and storage bench for a specific area in this NYC apartment. Contemporary and functional was the name of the game for this project.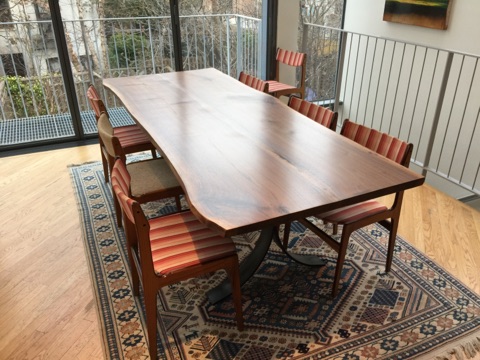 Walnut Table
This 102" long Walnut table with curved legs is now at home in a lovely, contemporary Brooklyn home.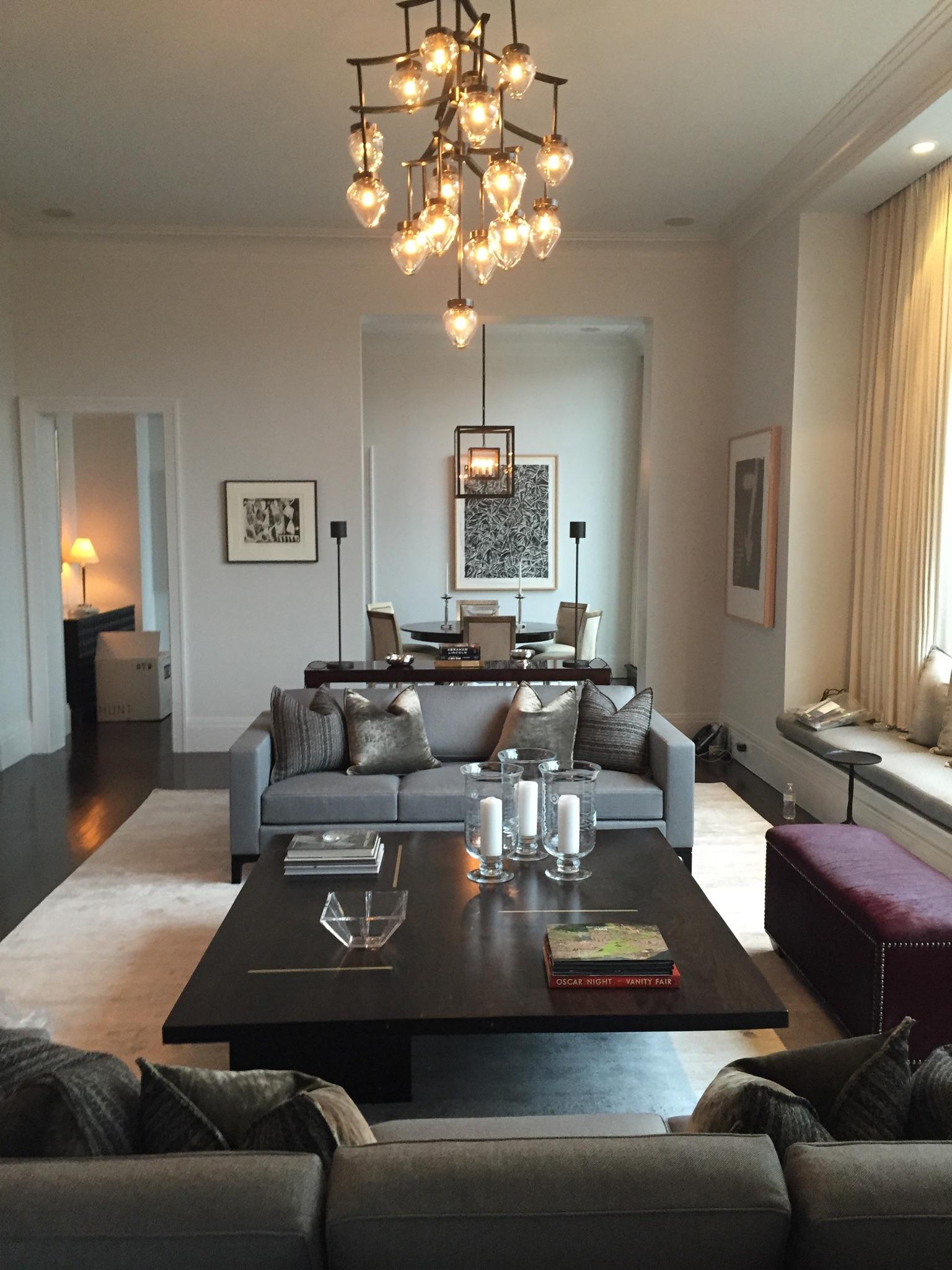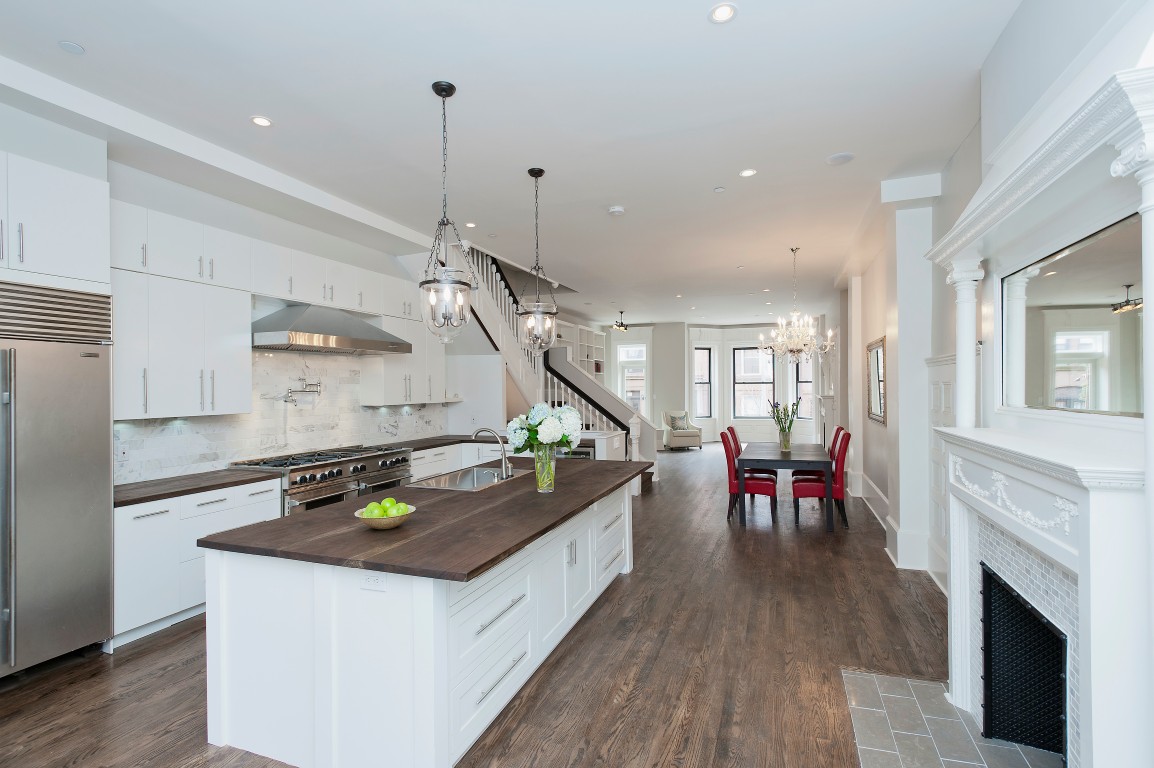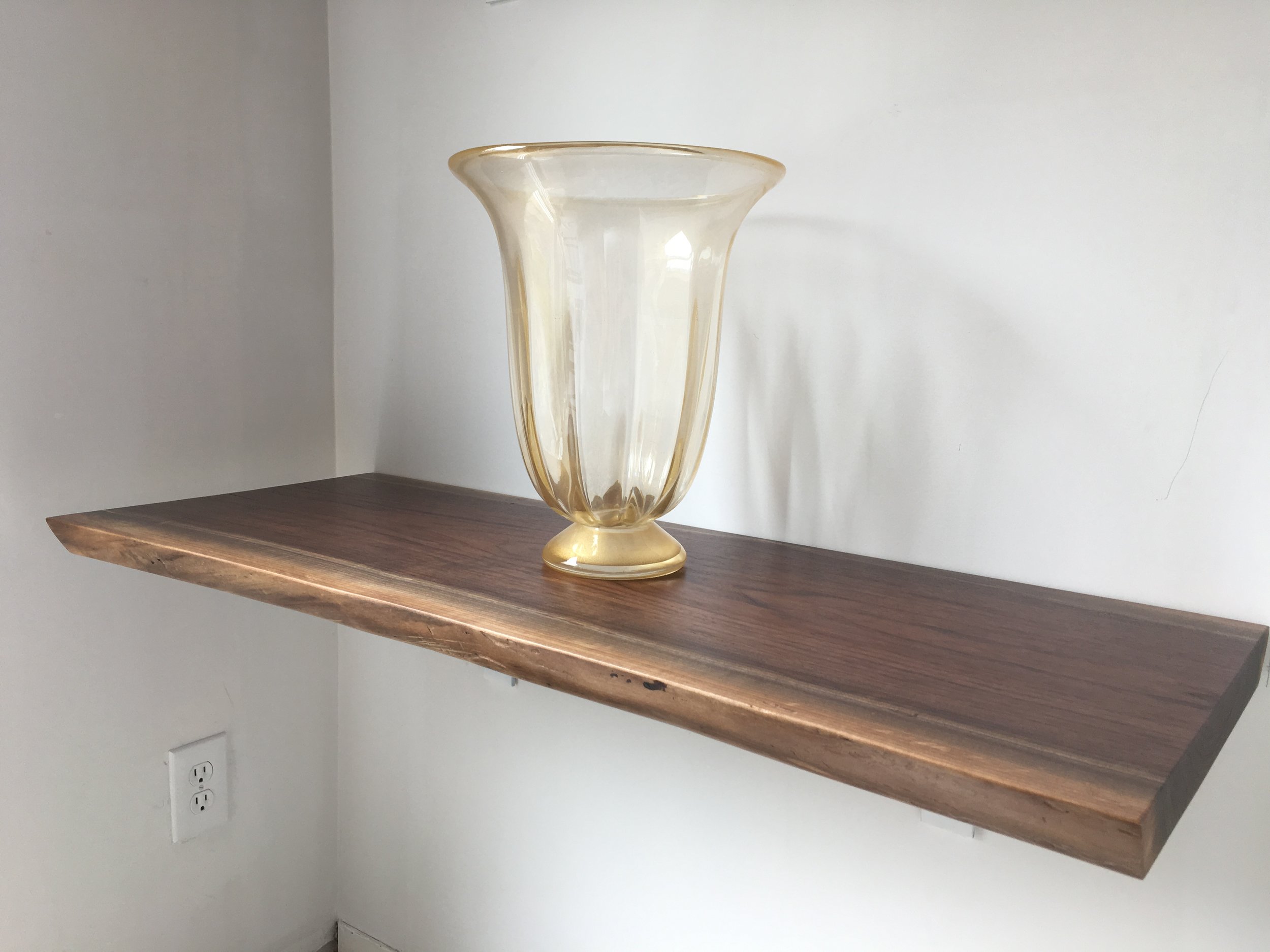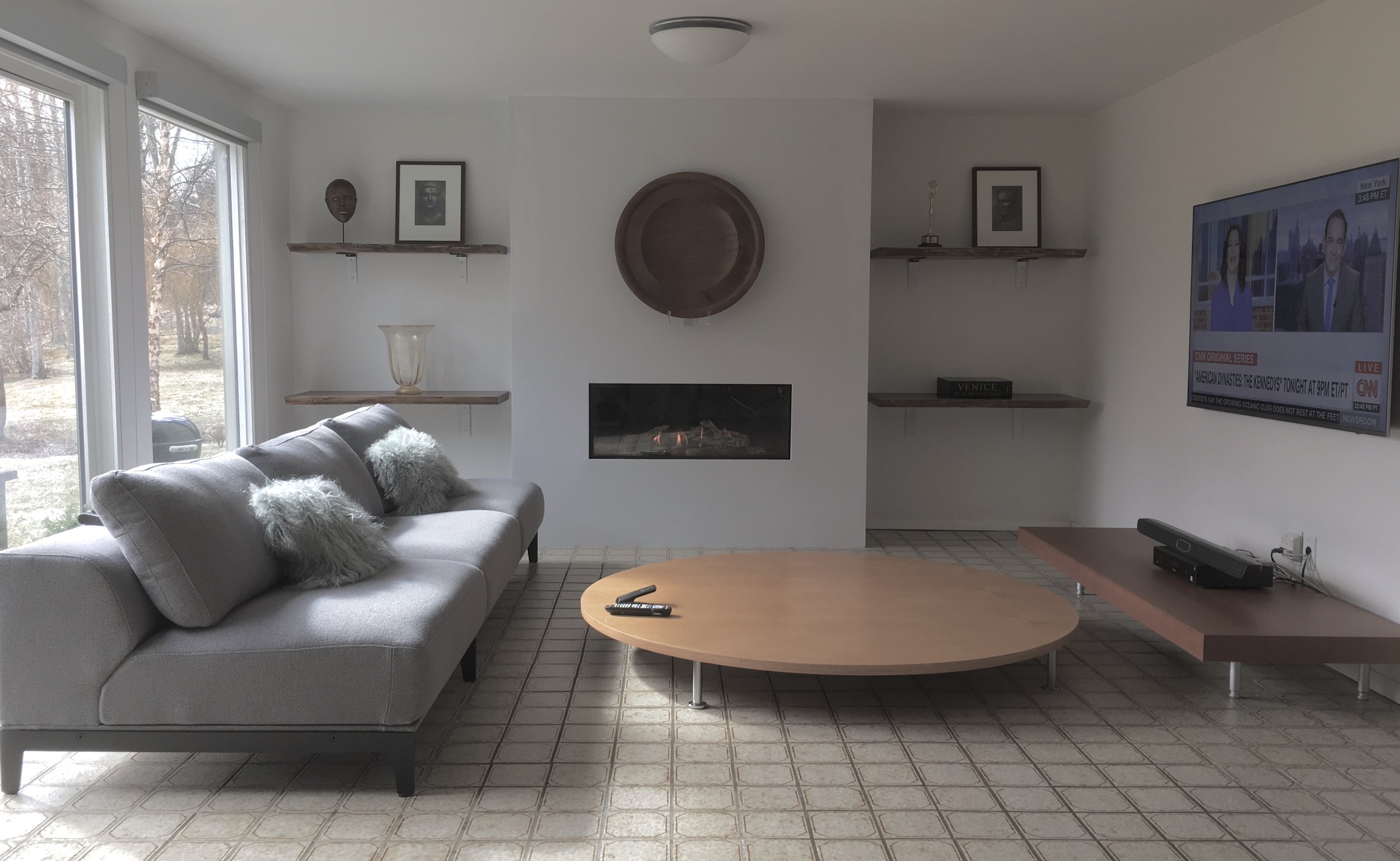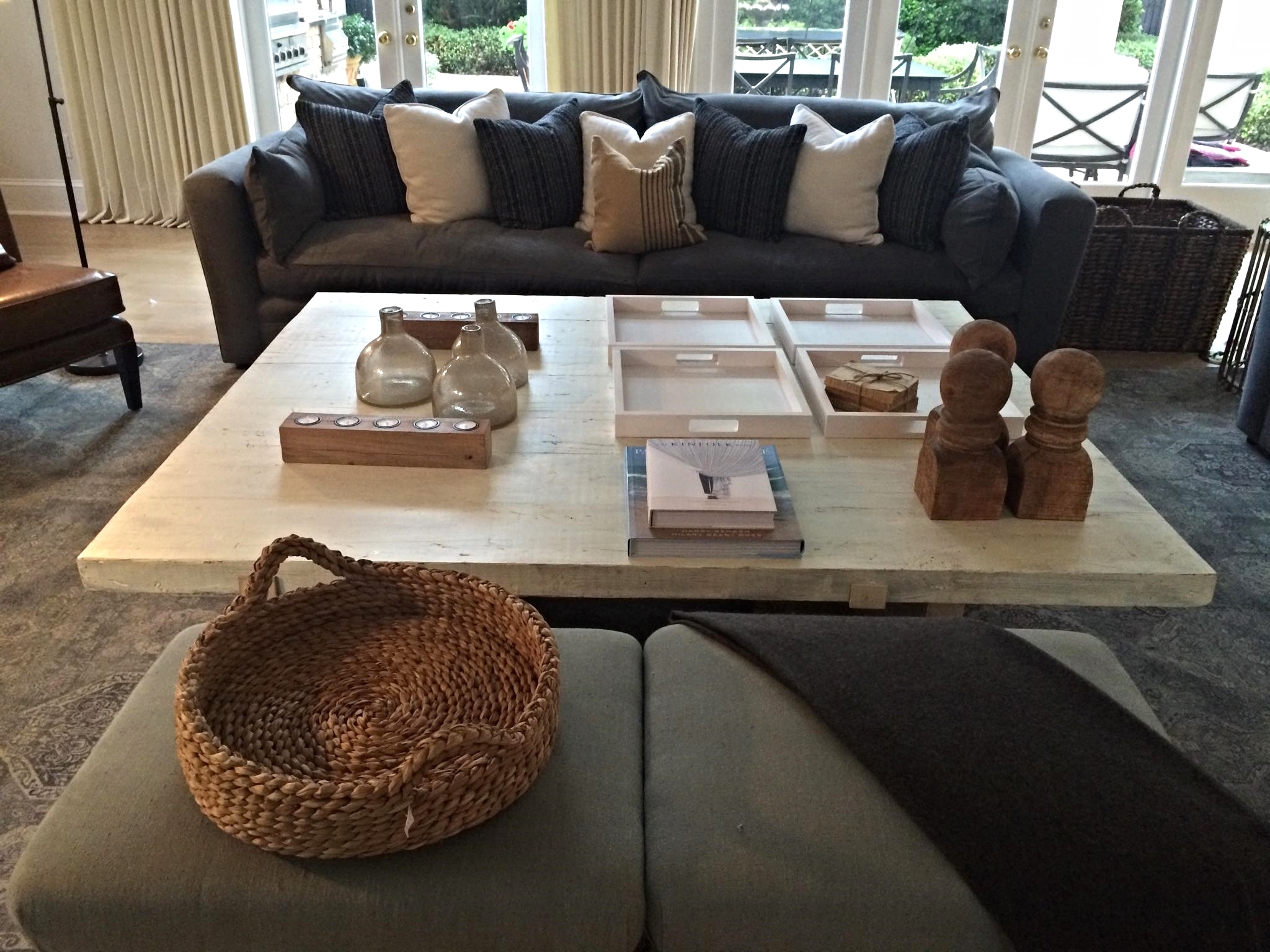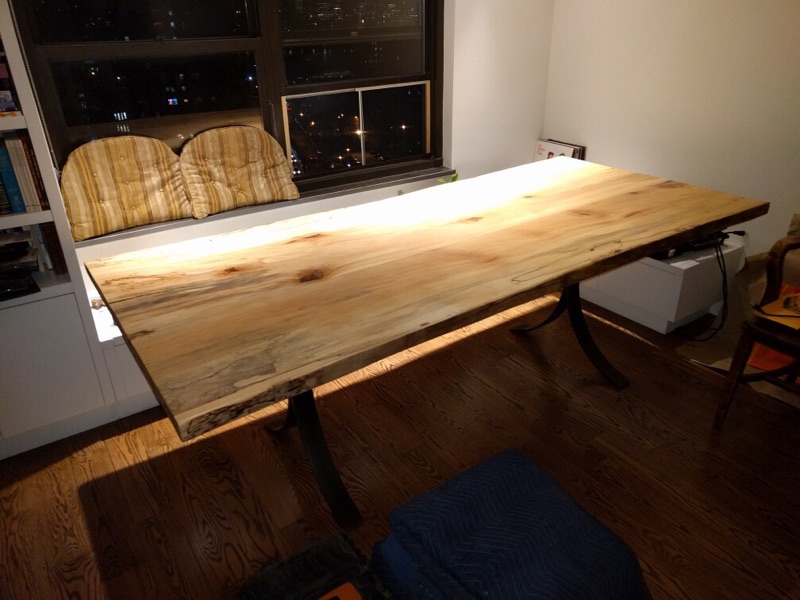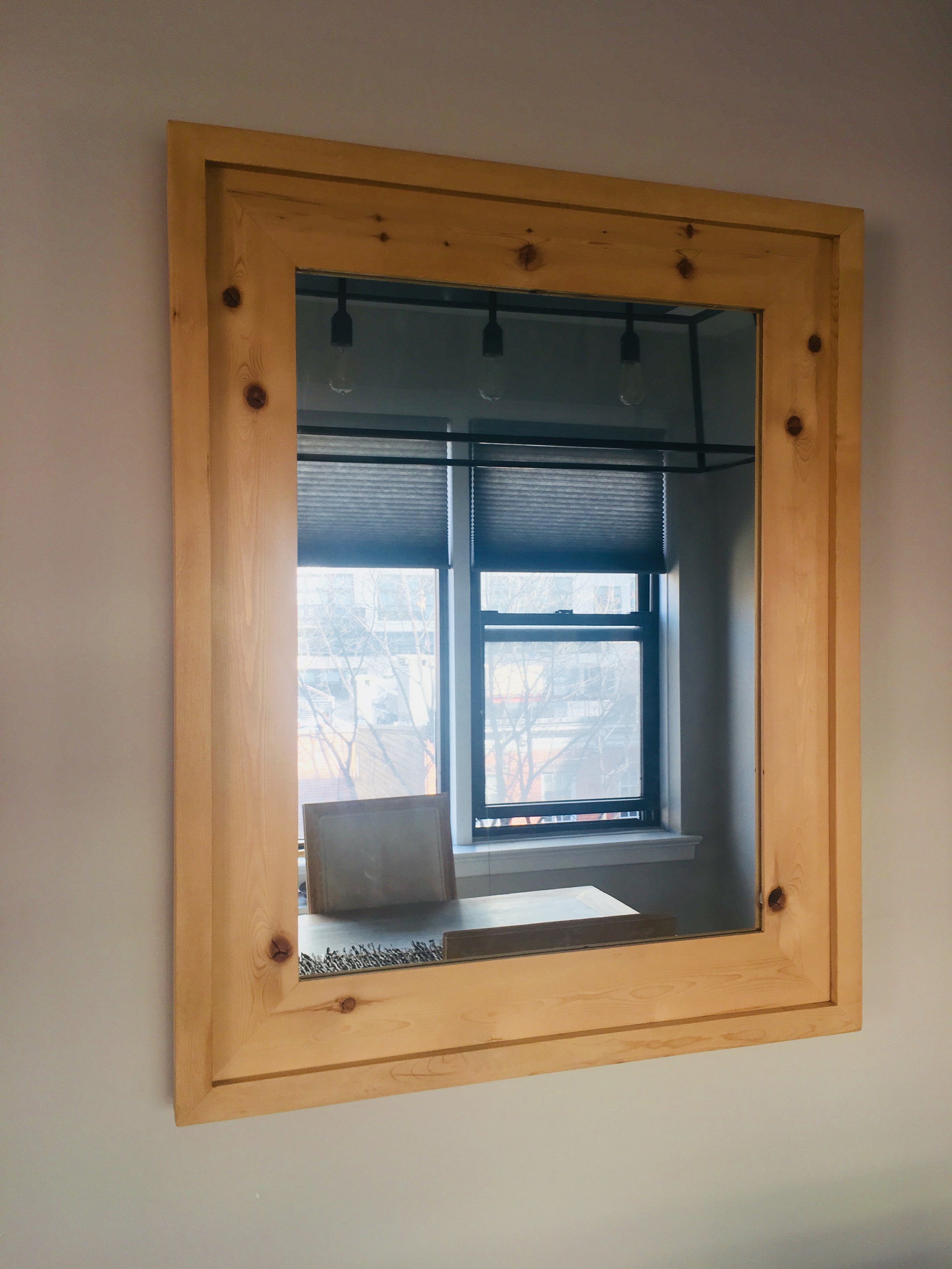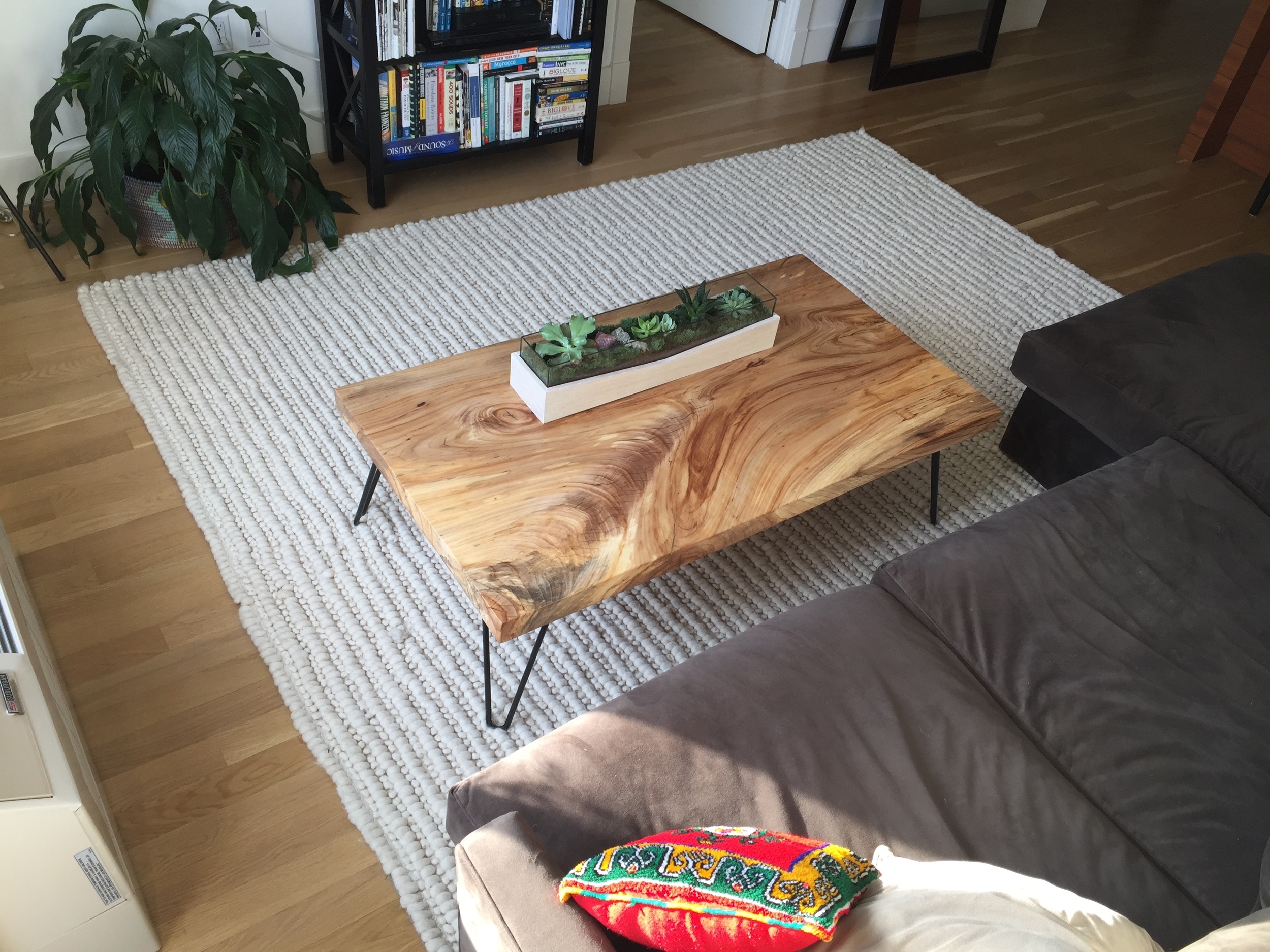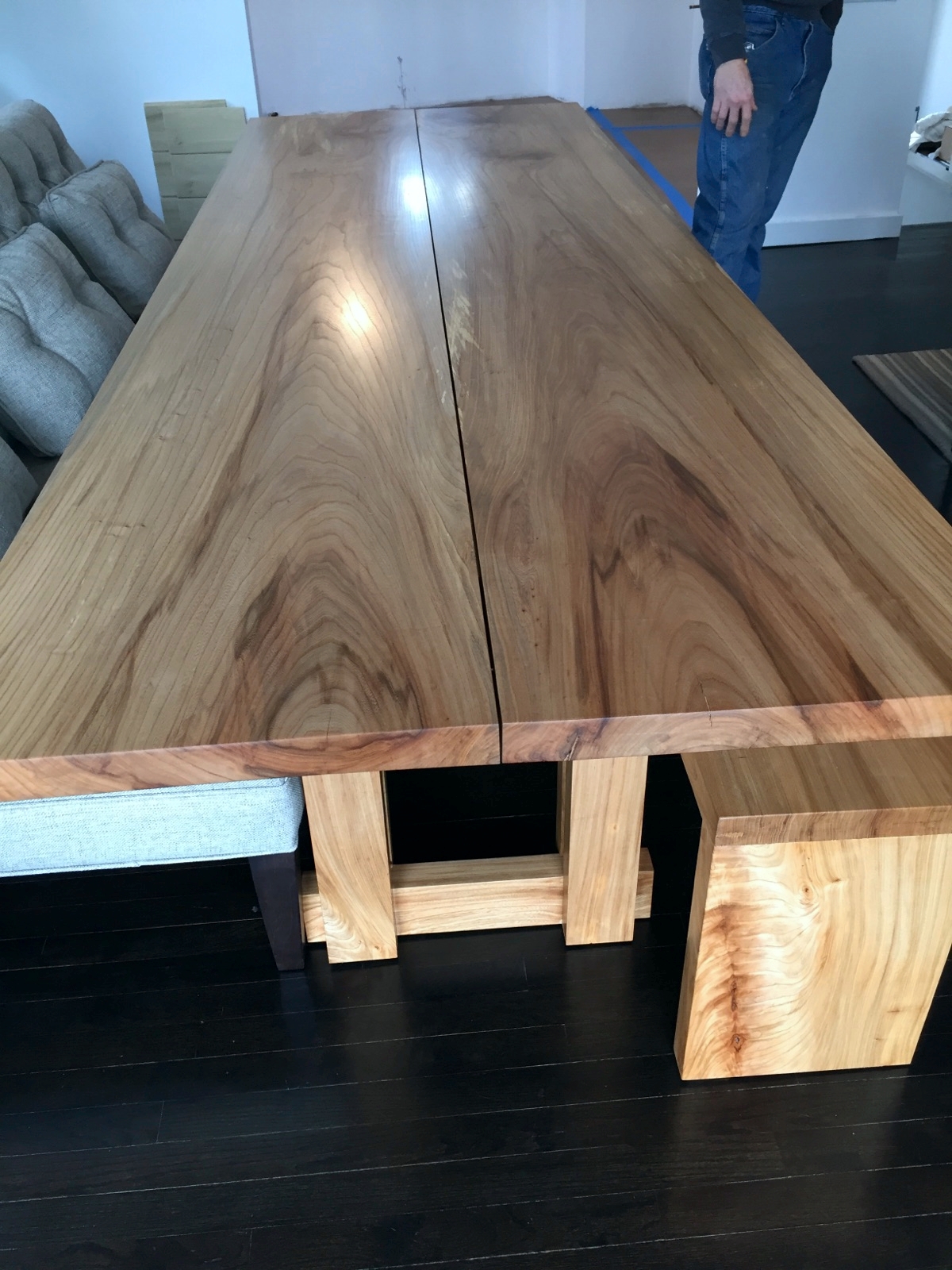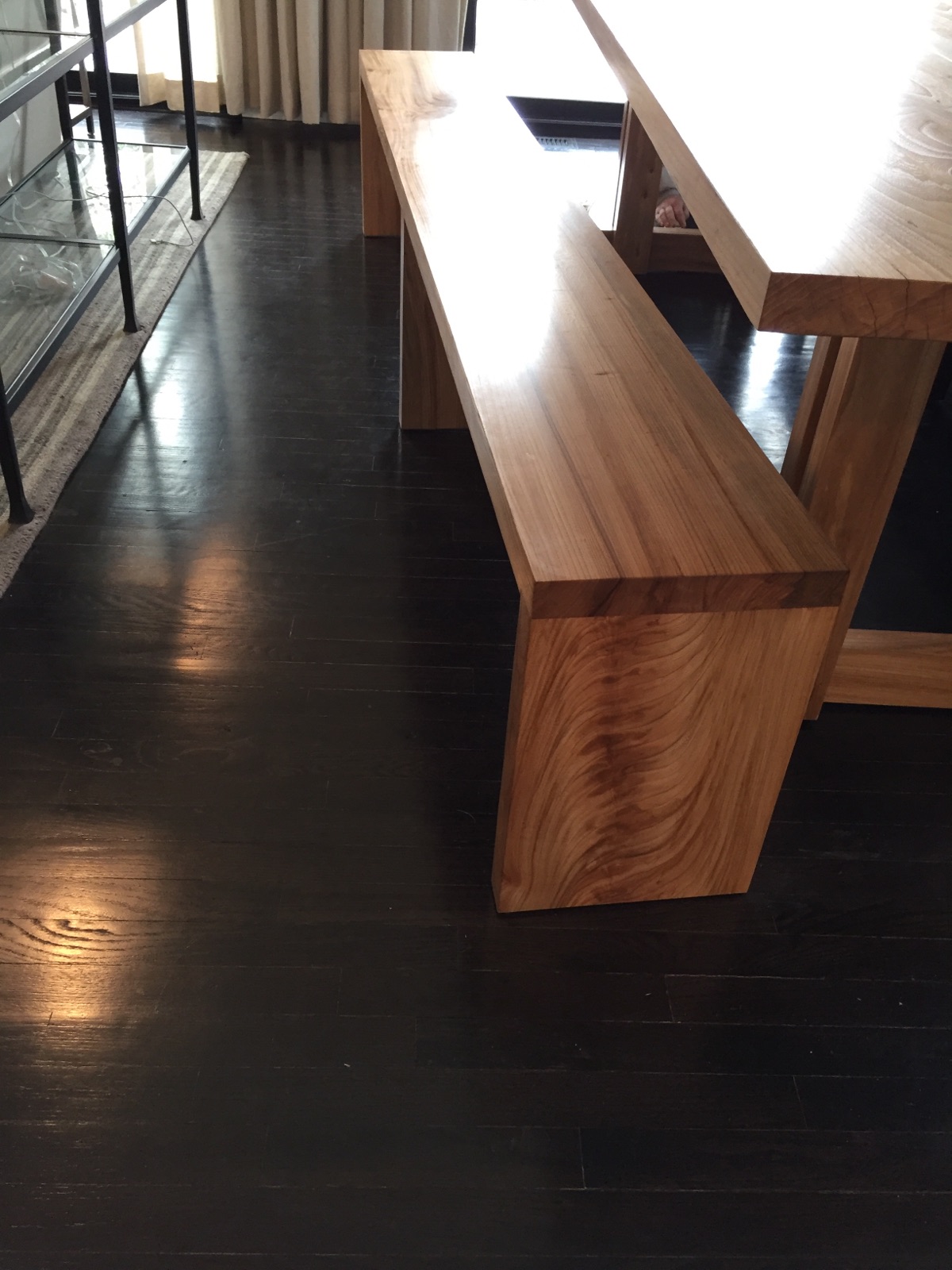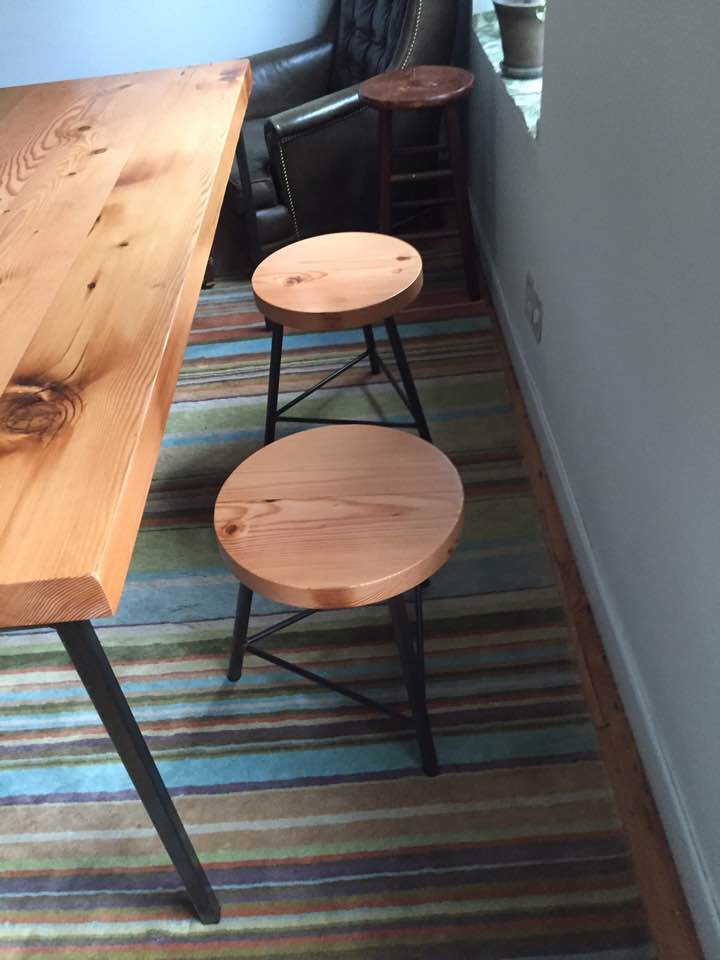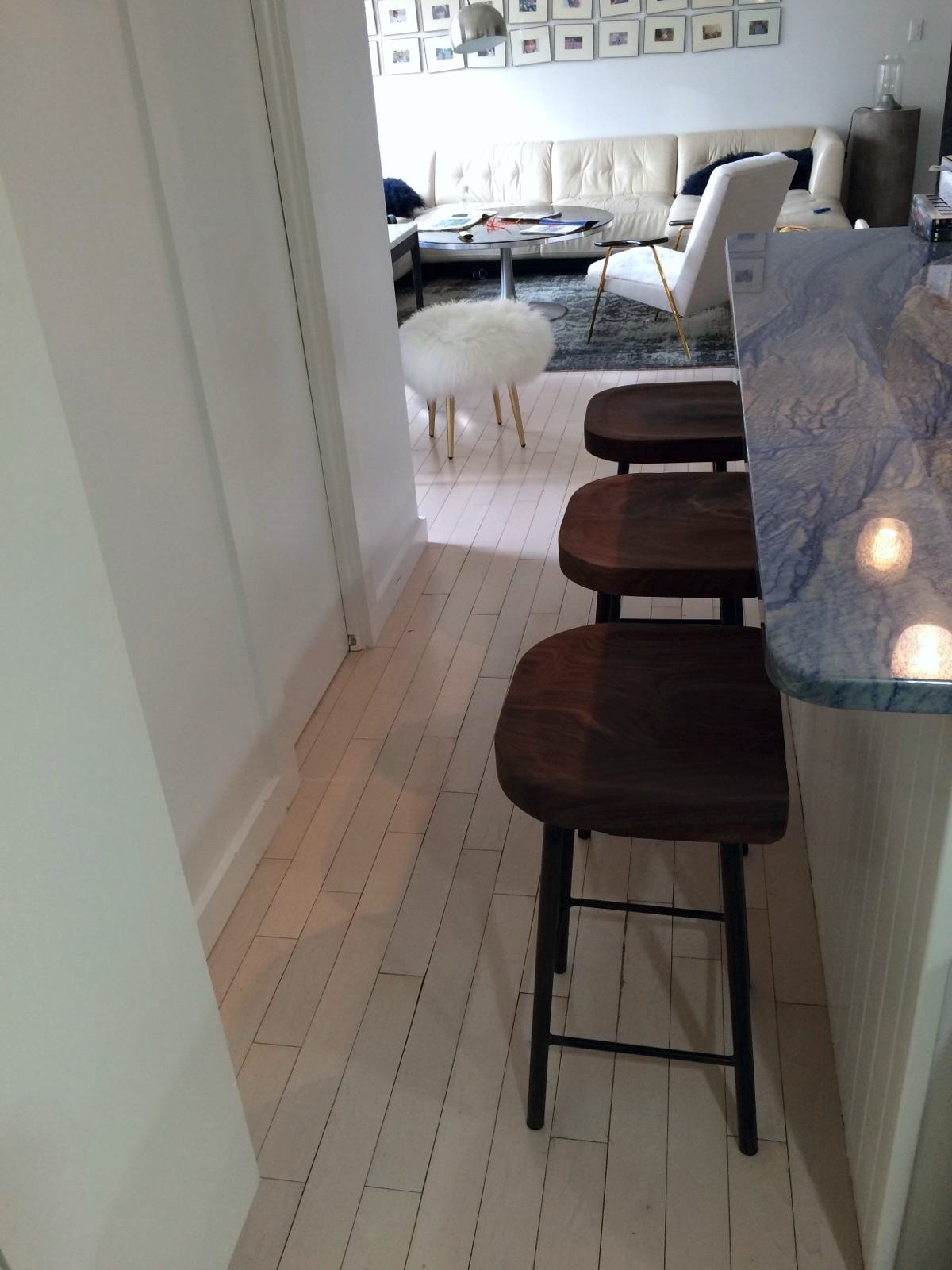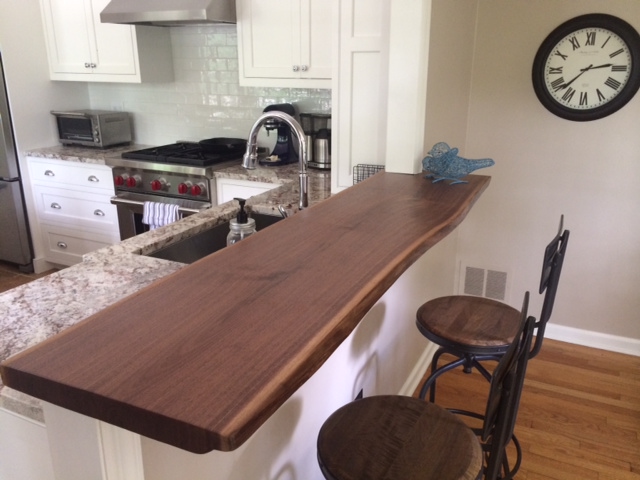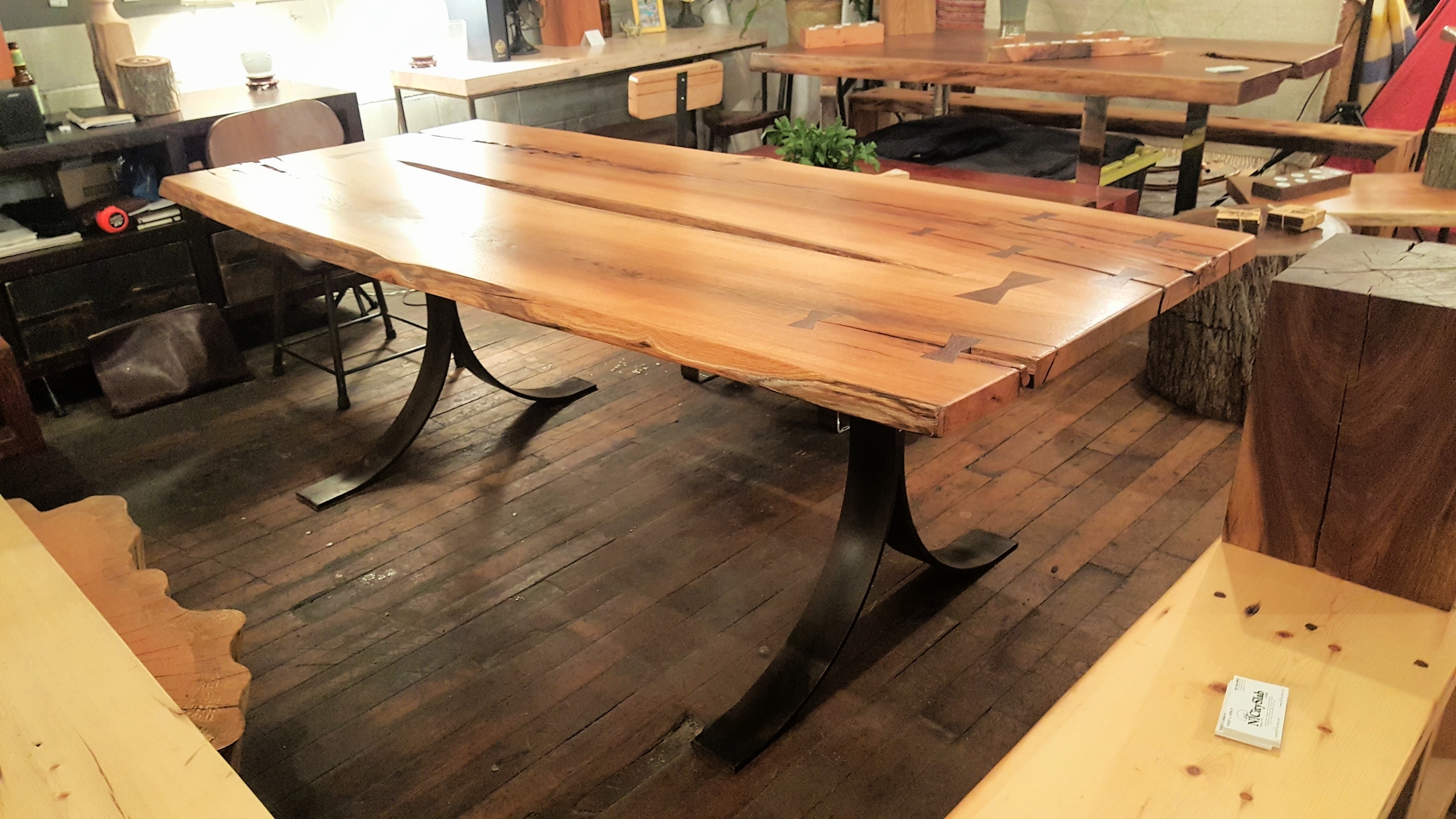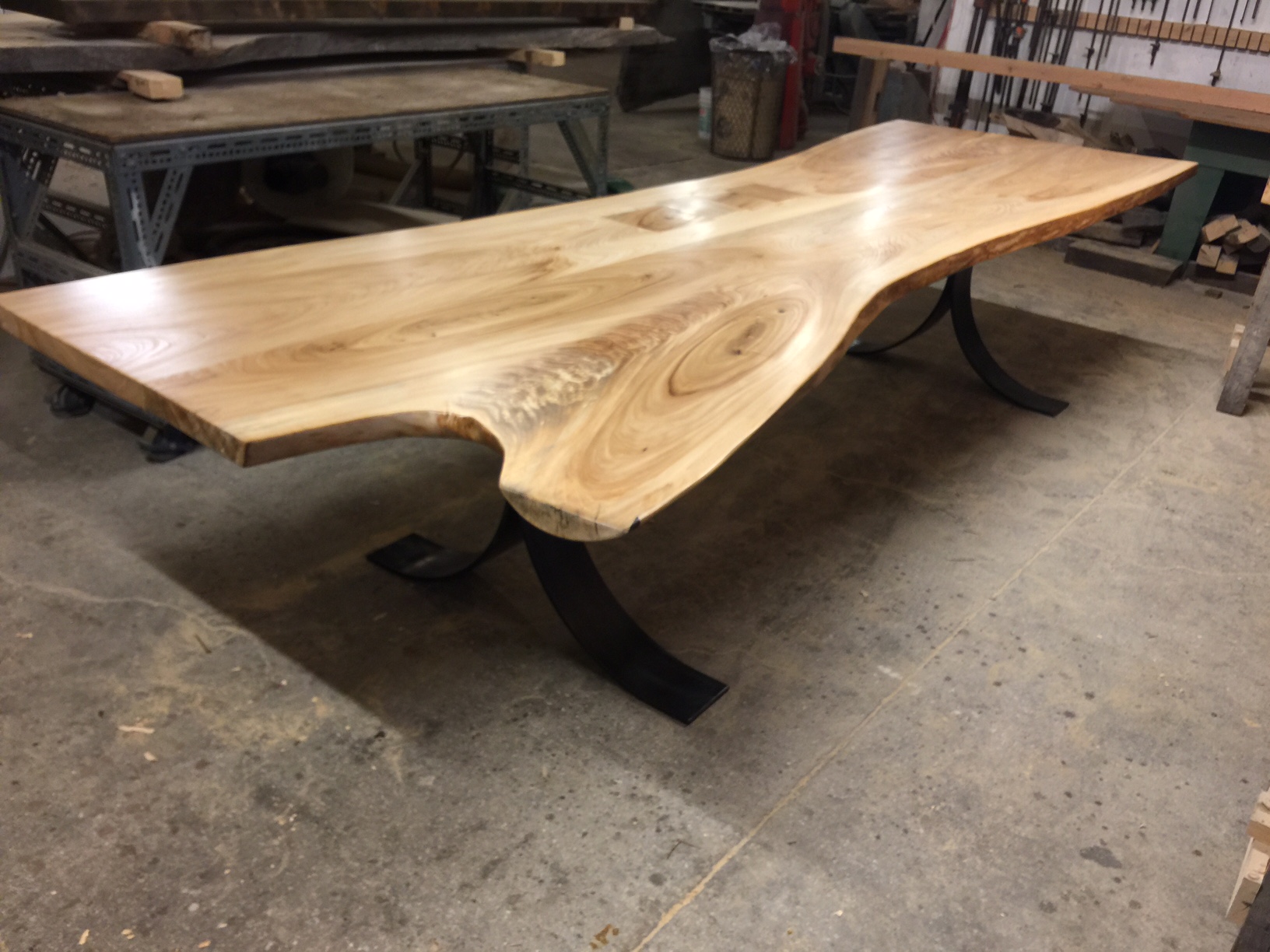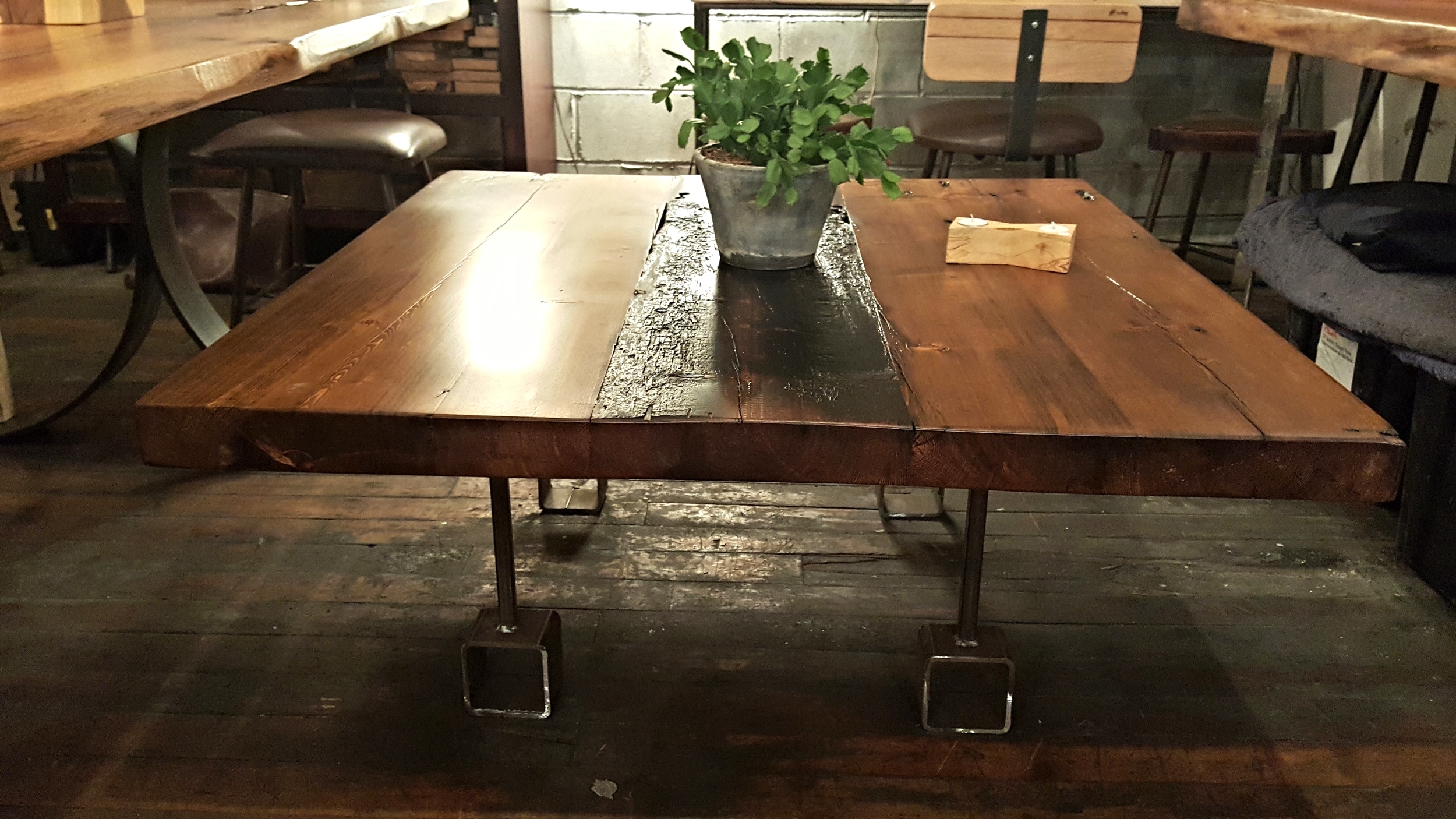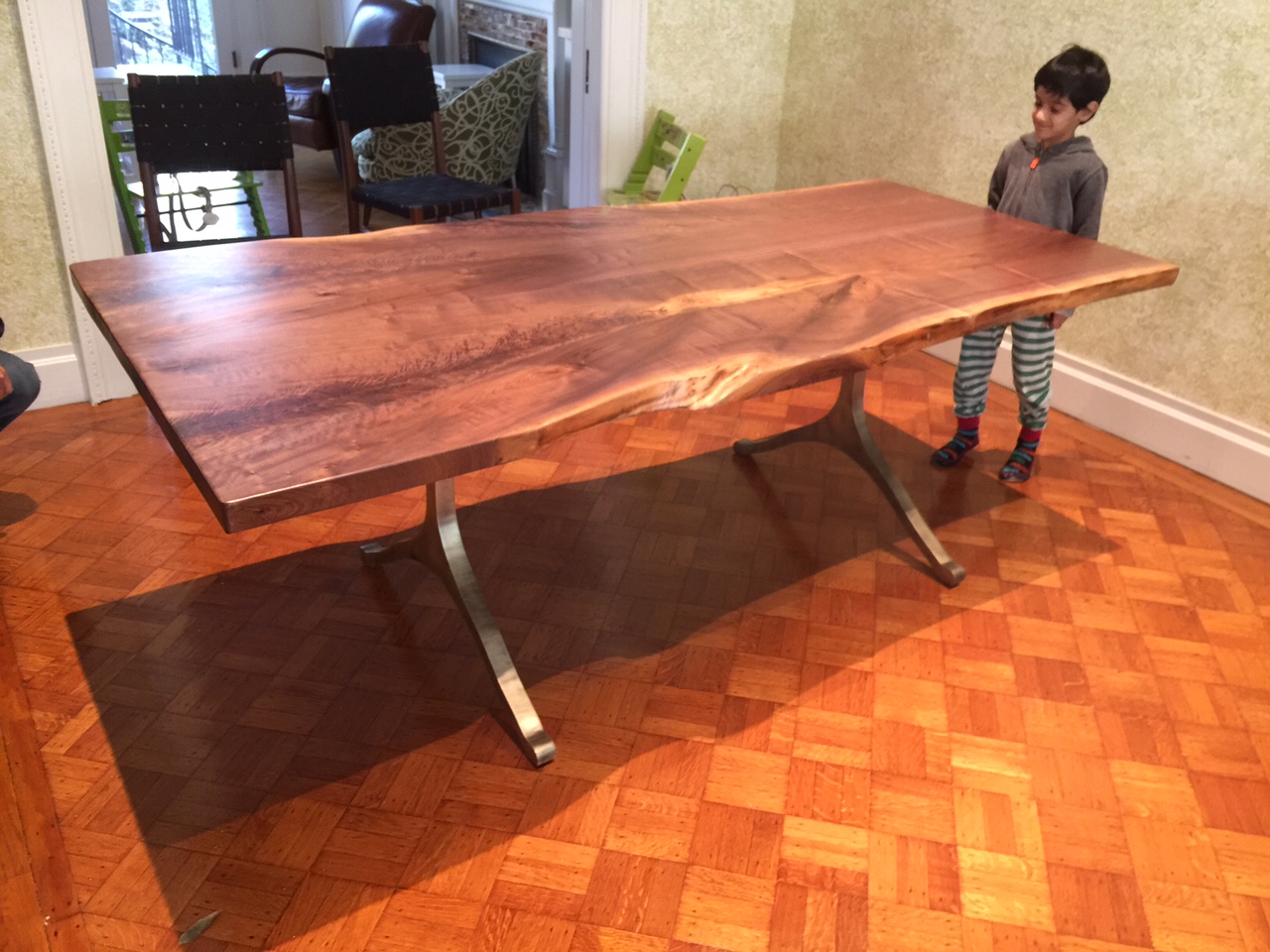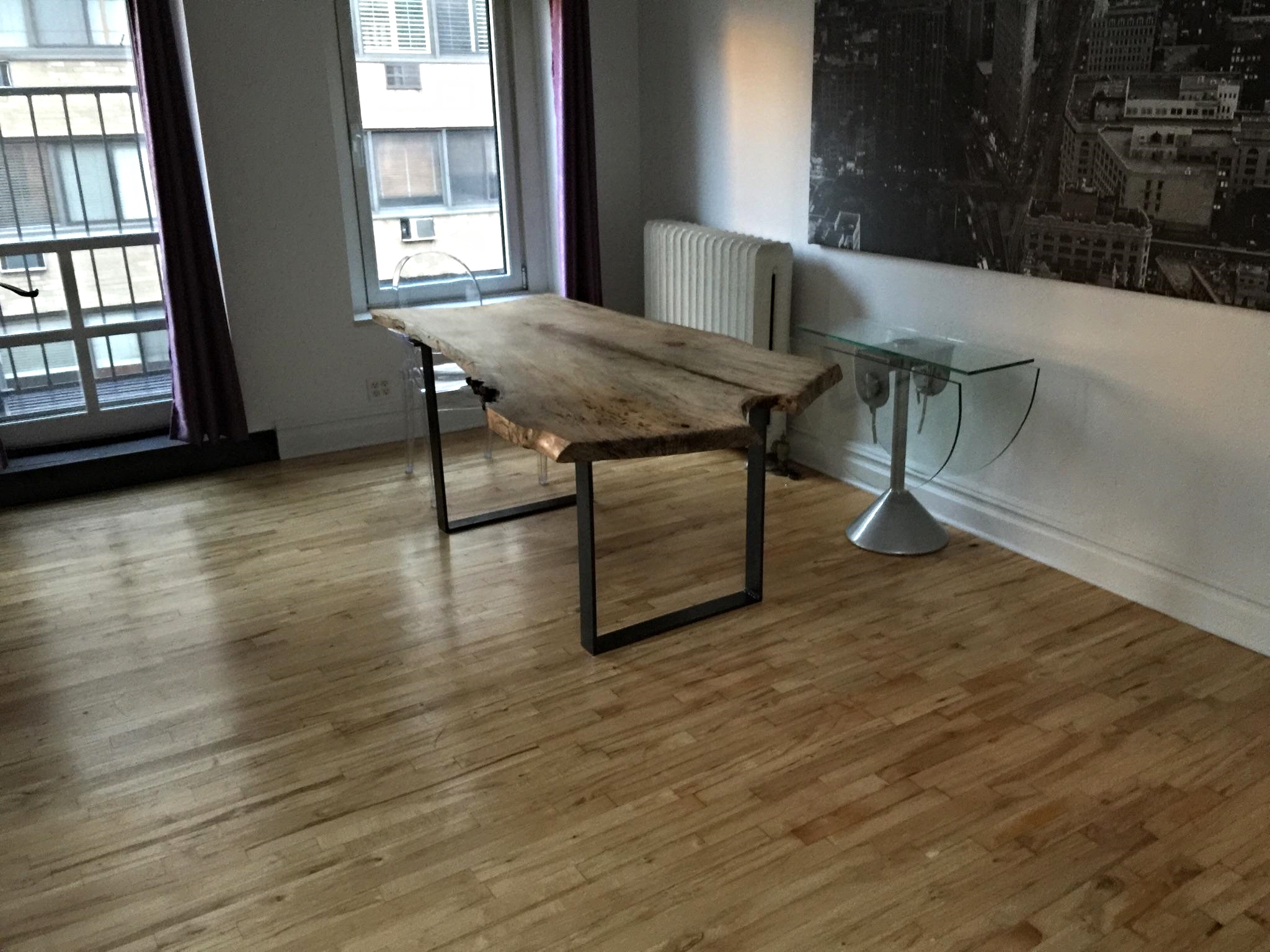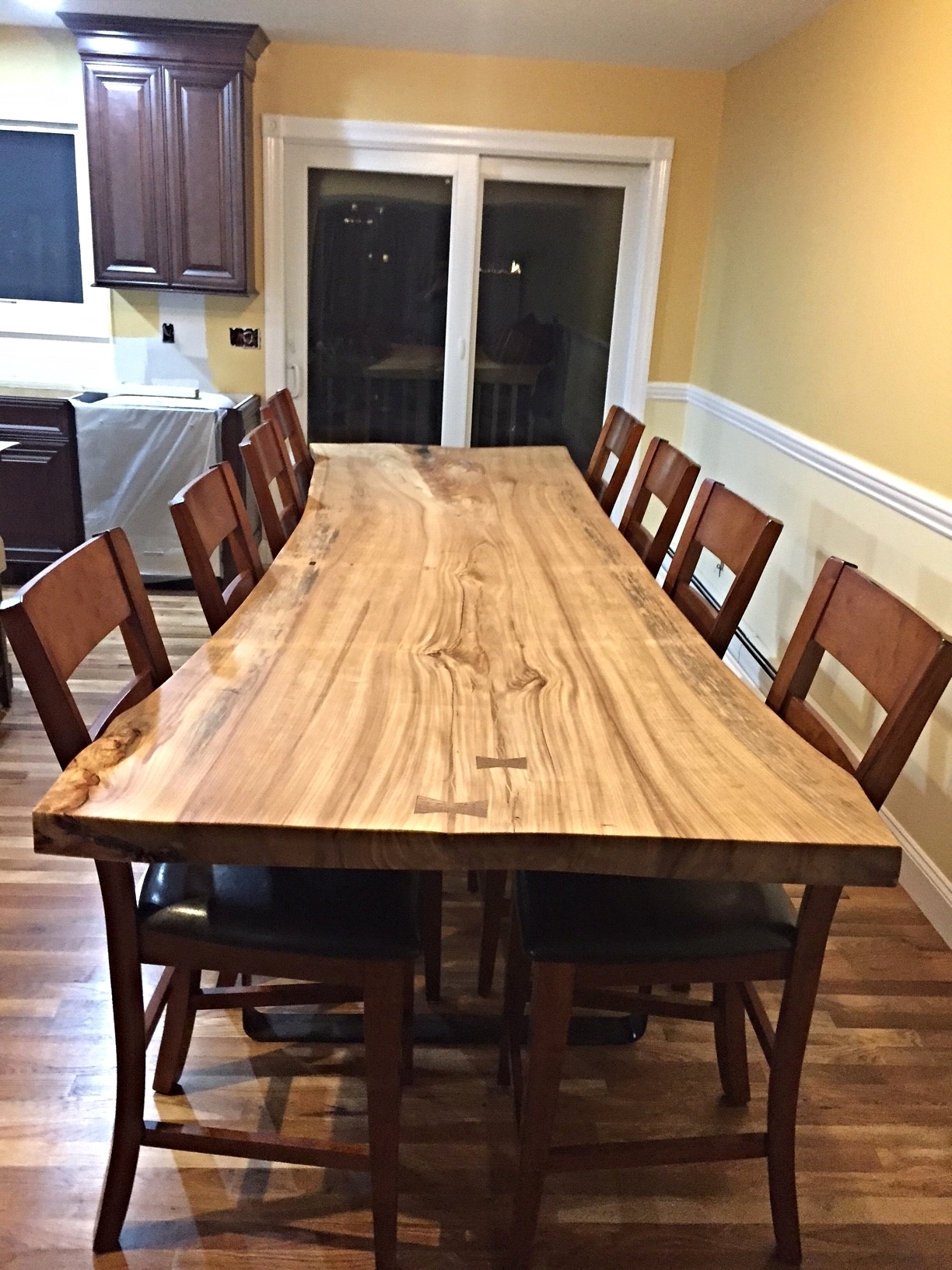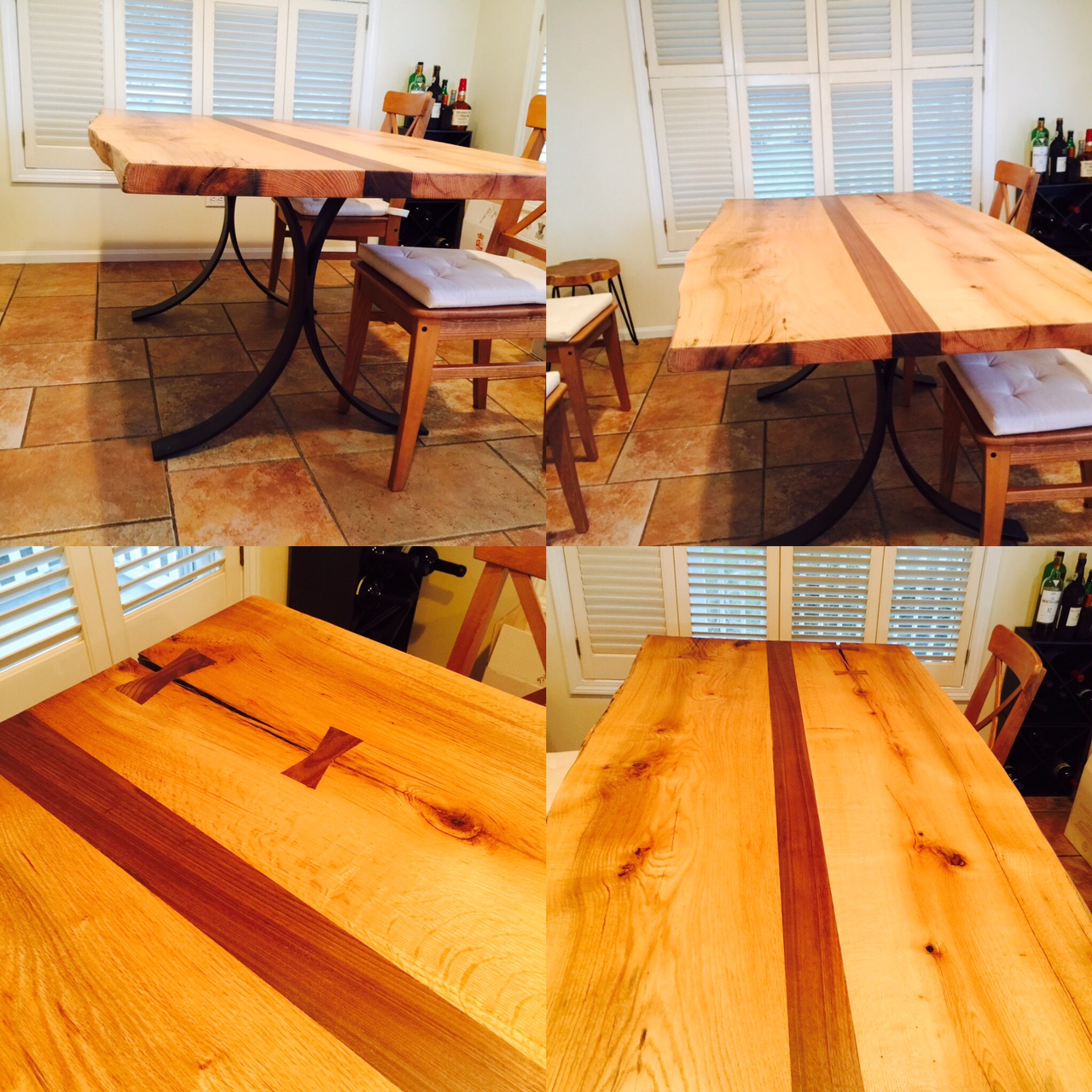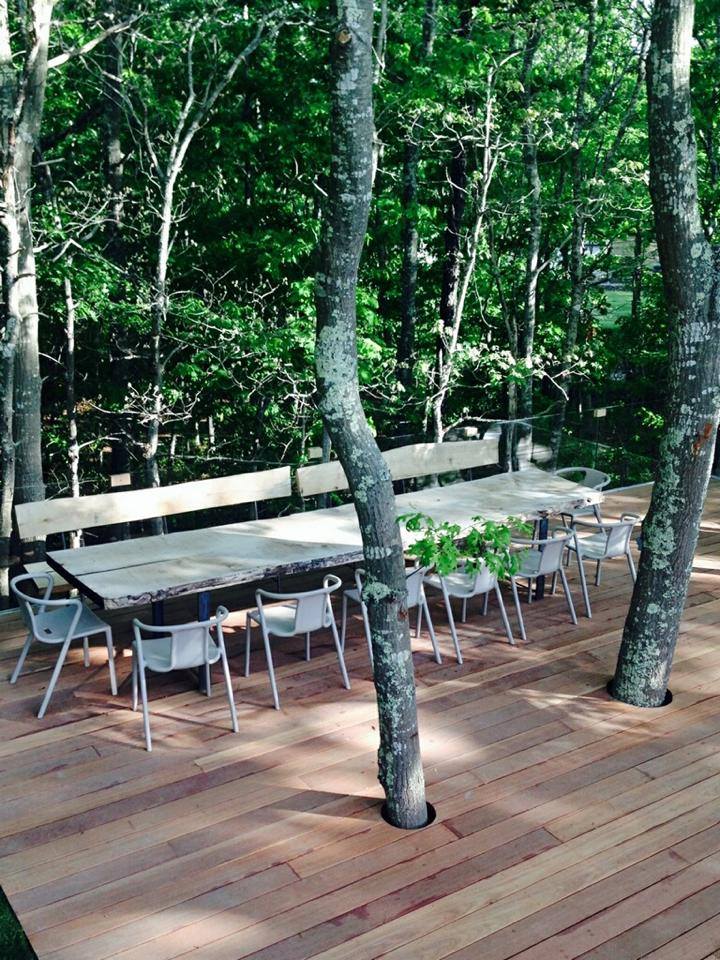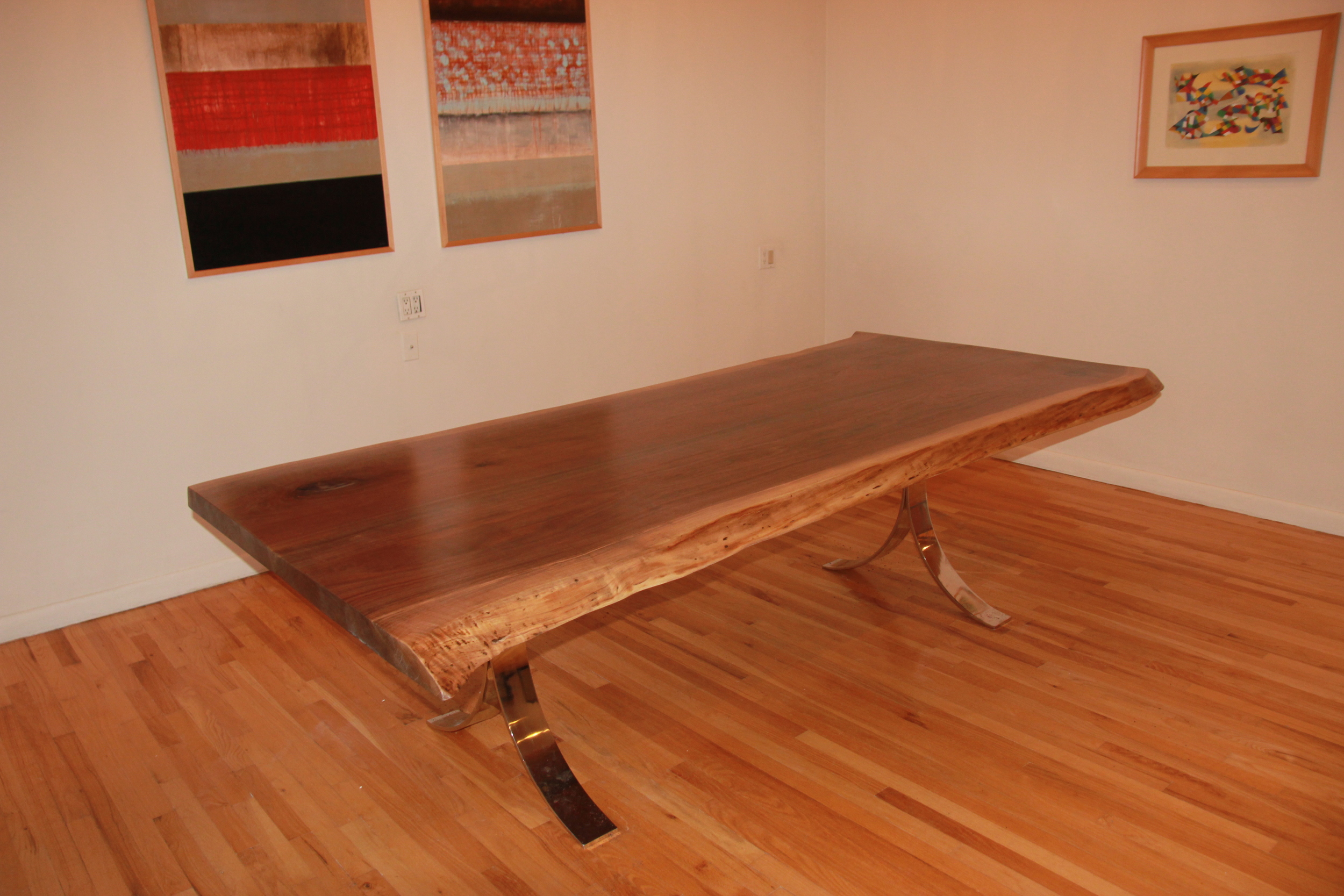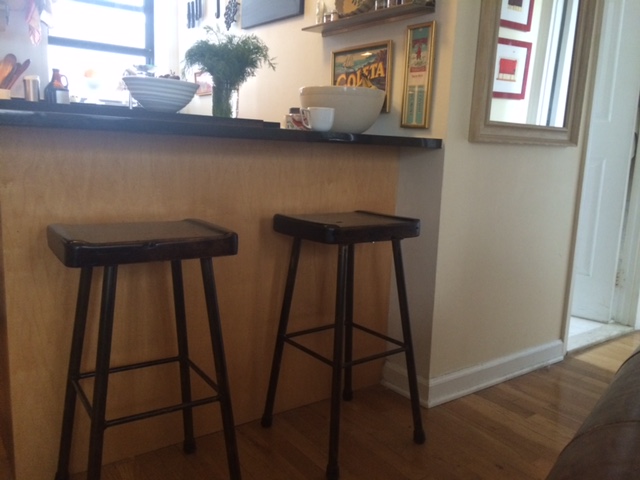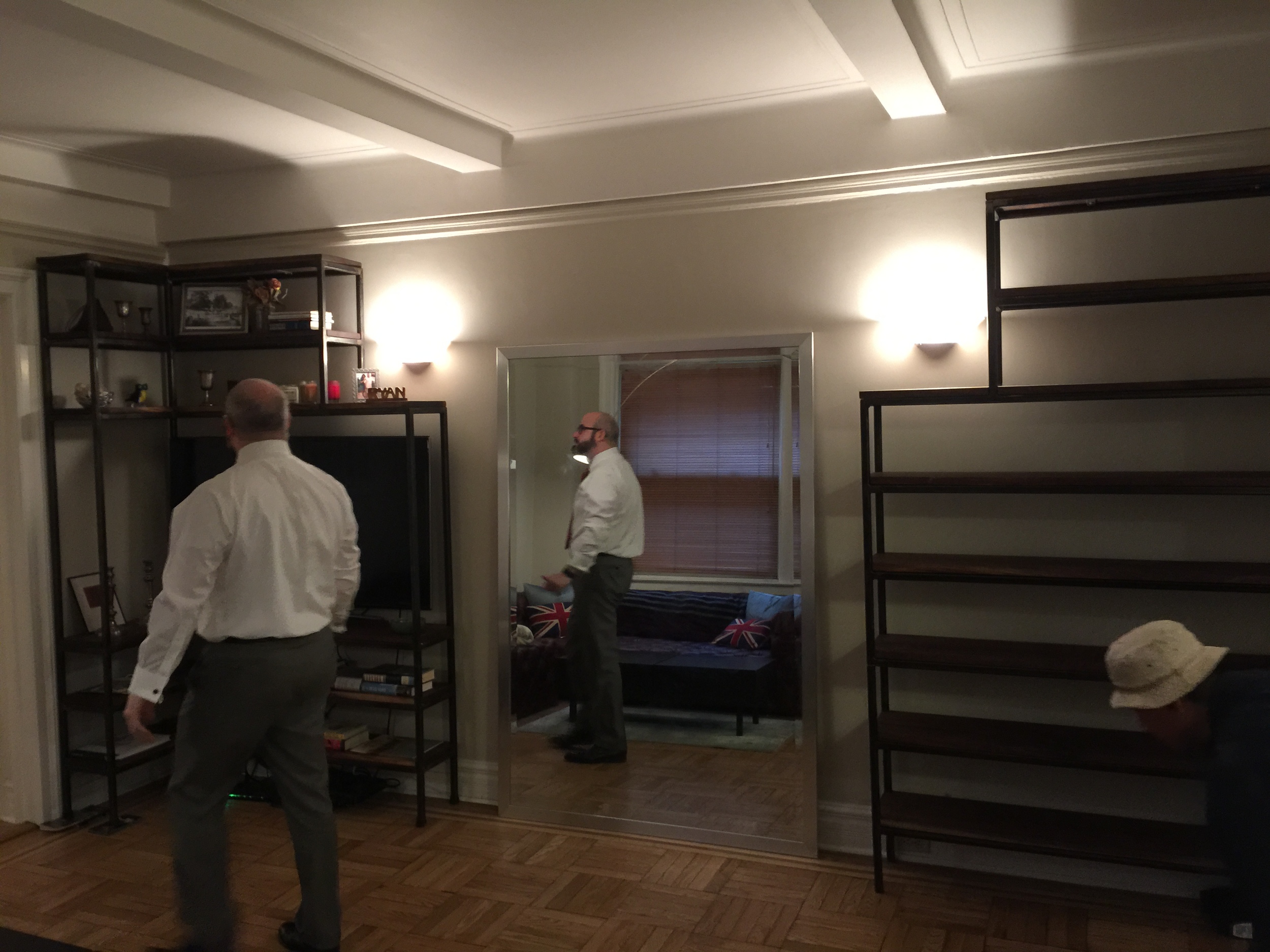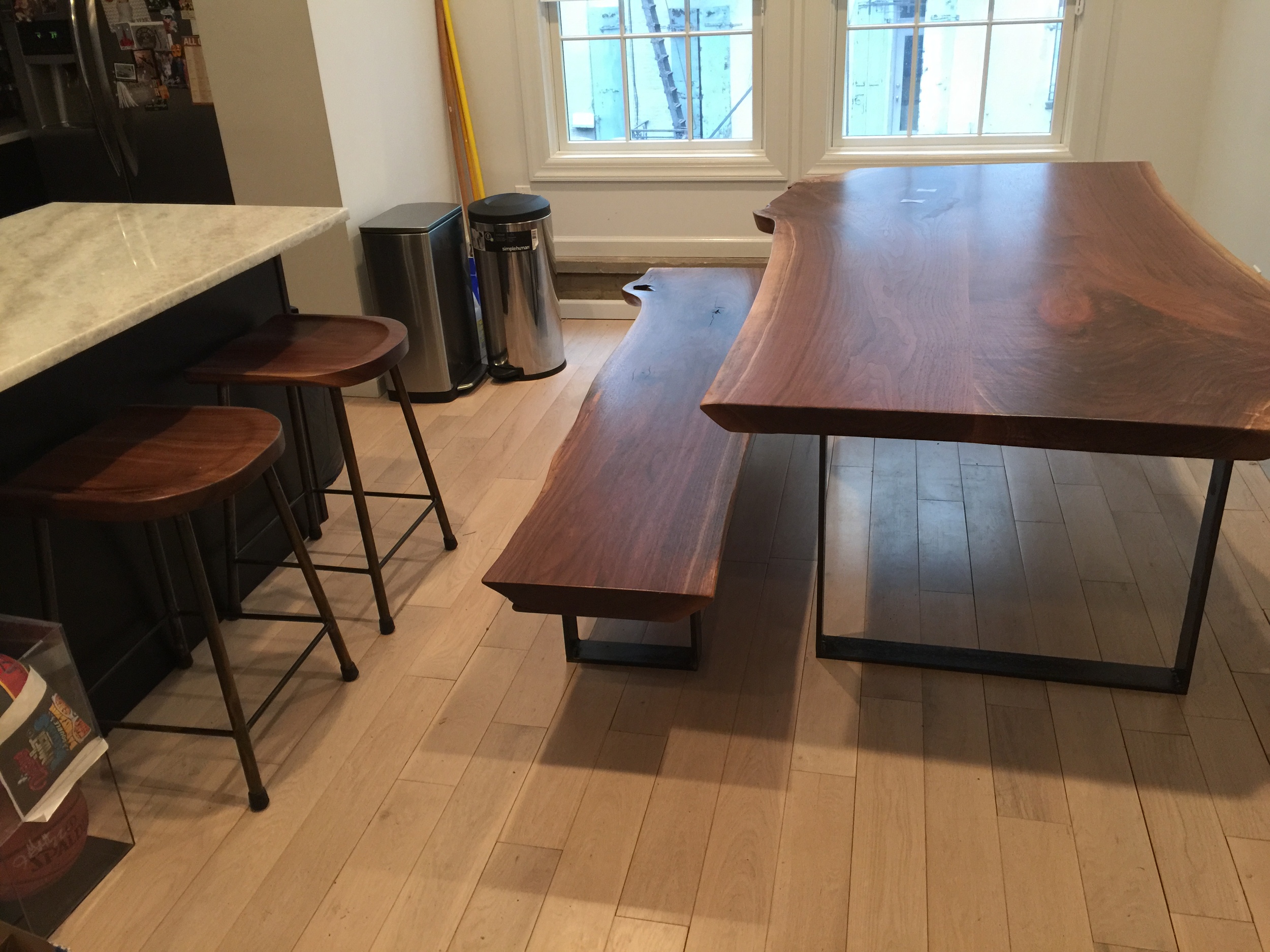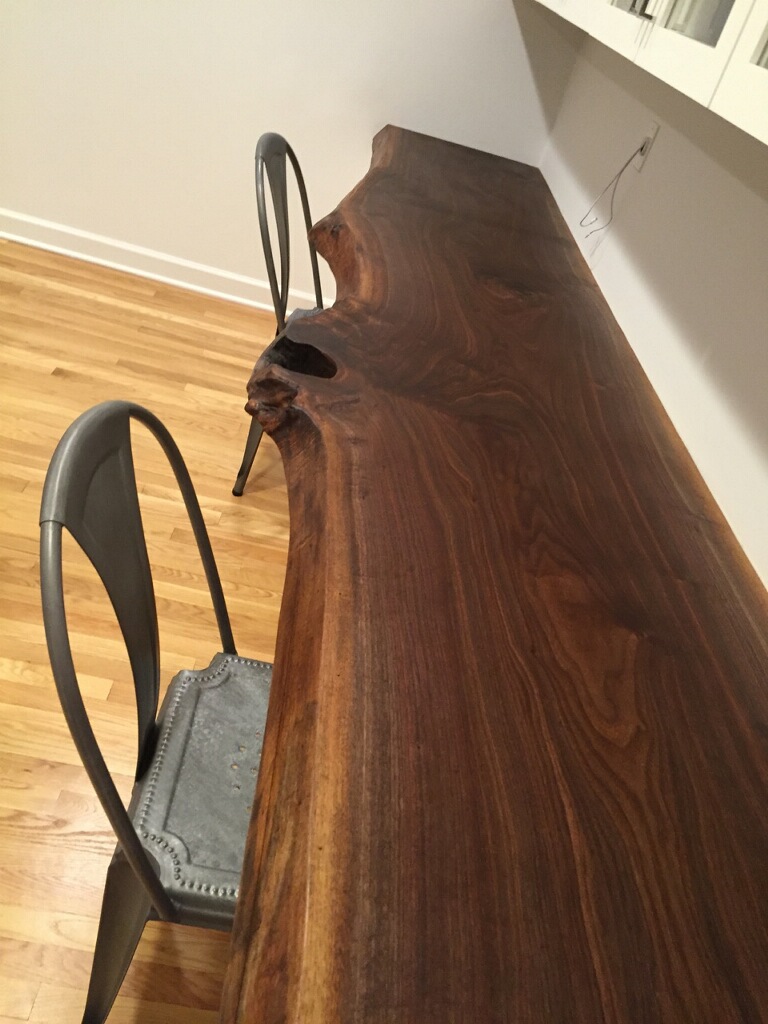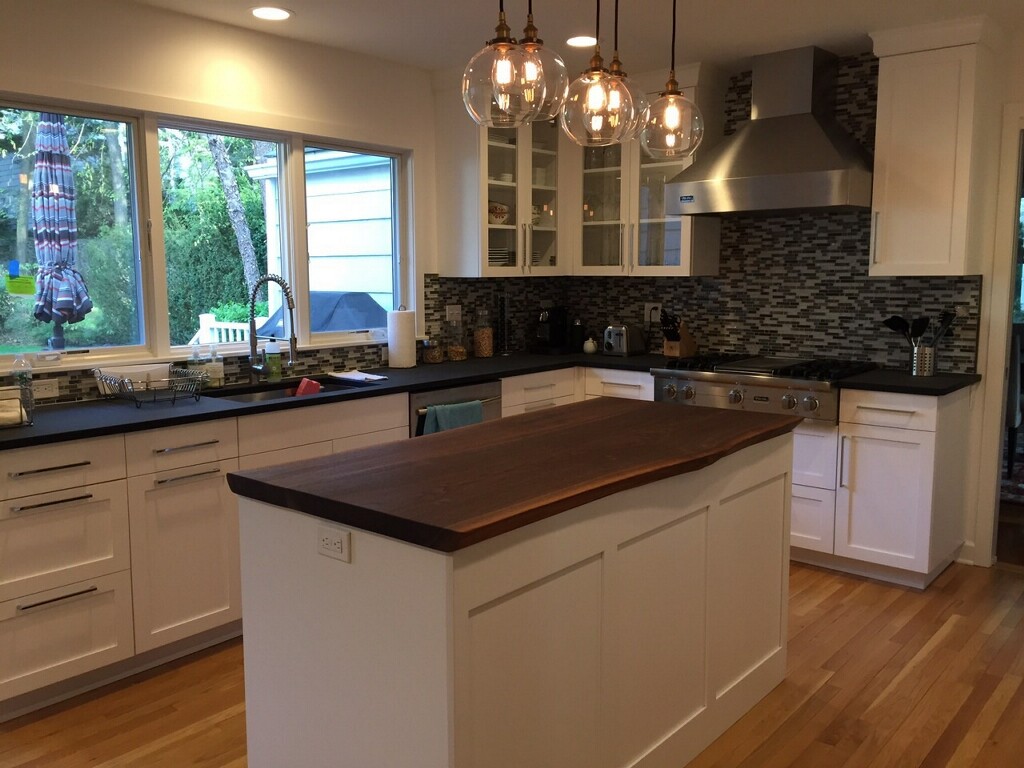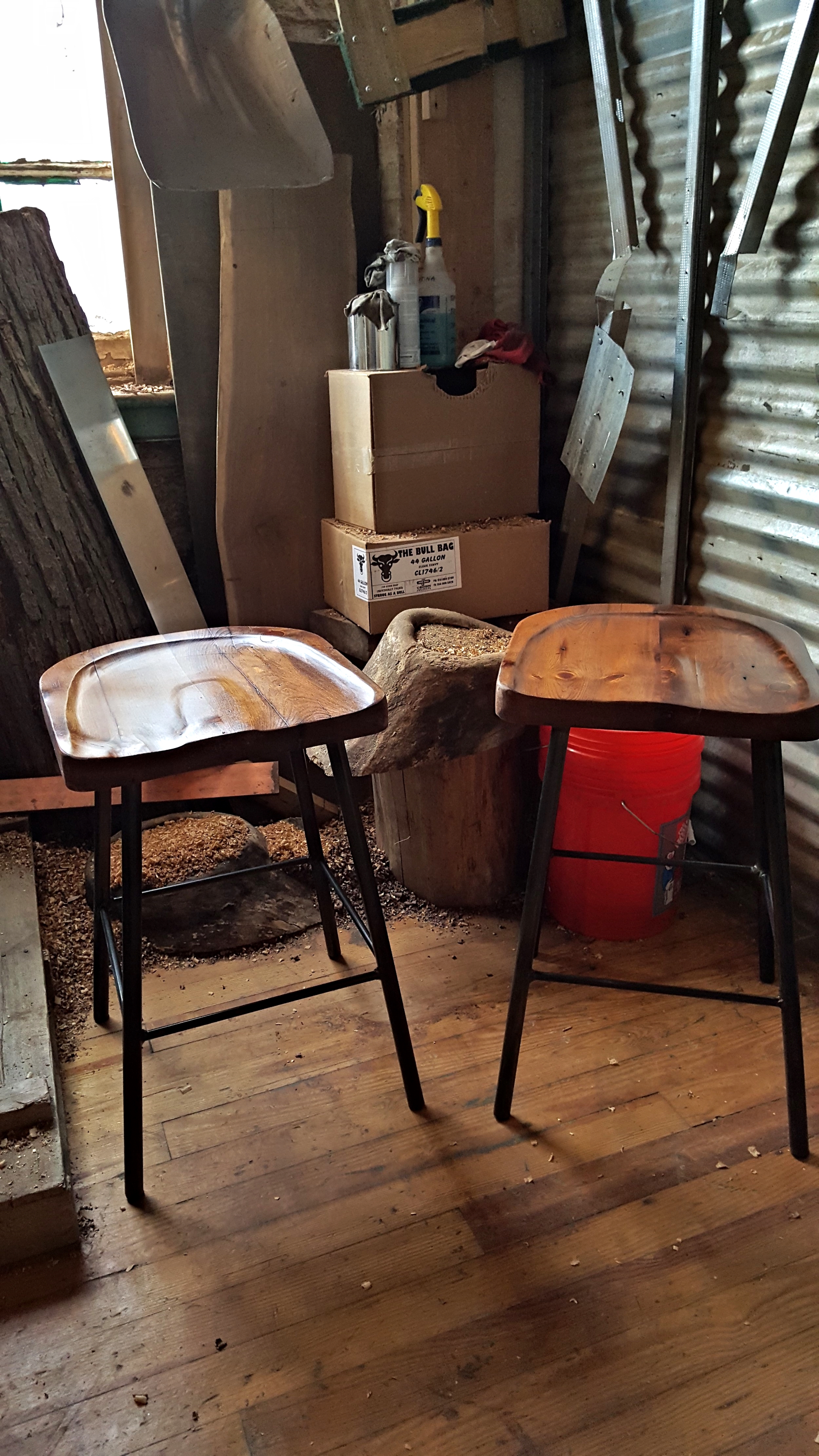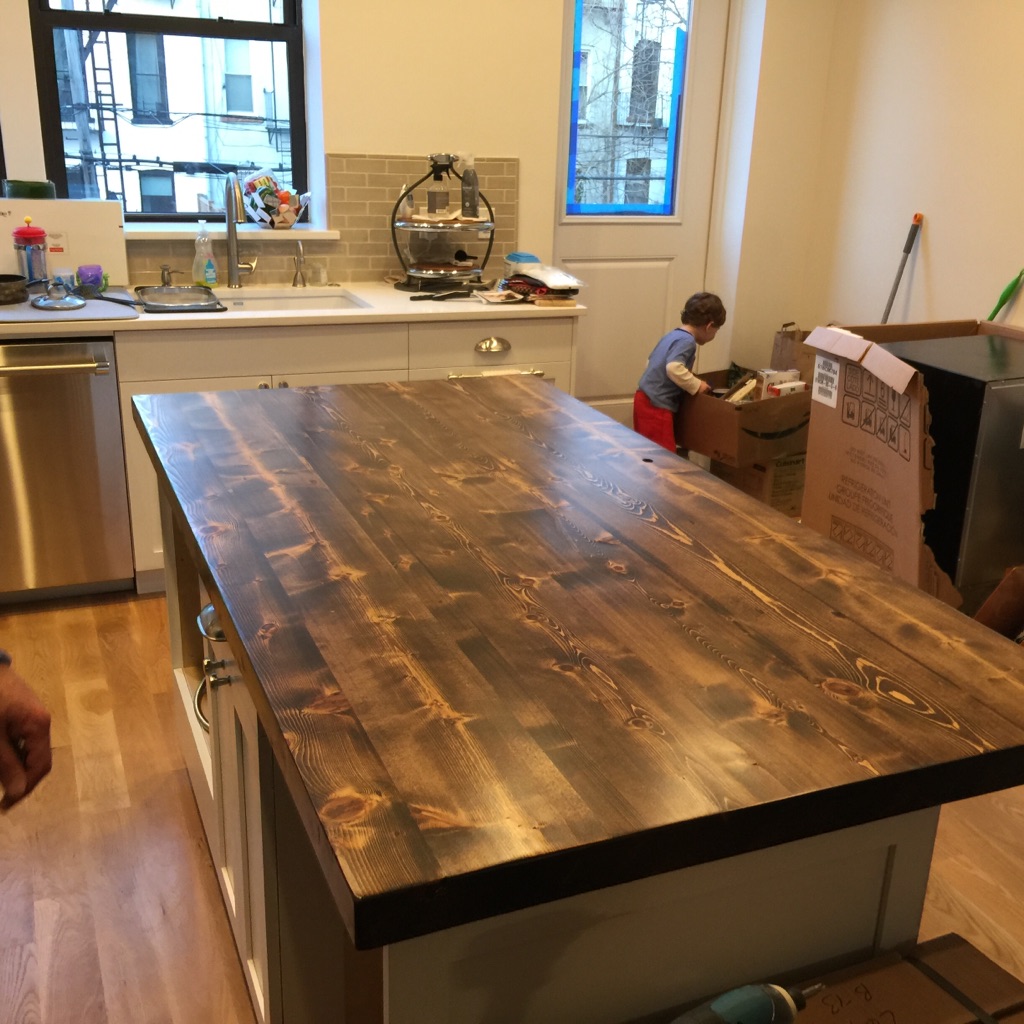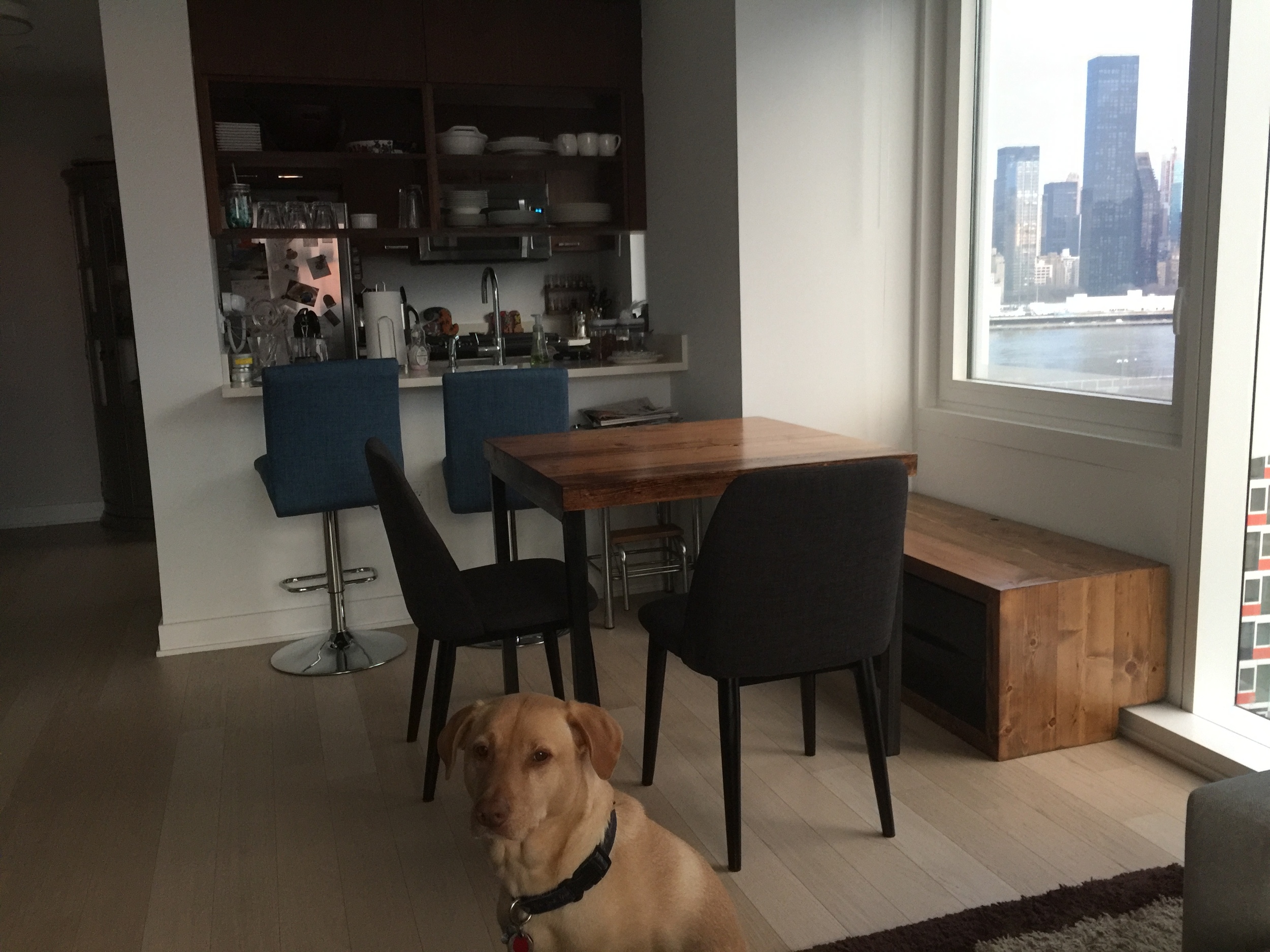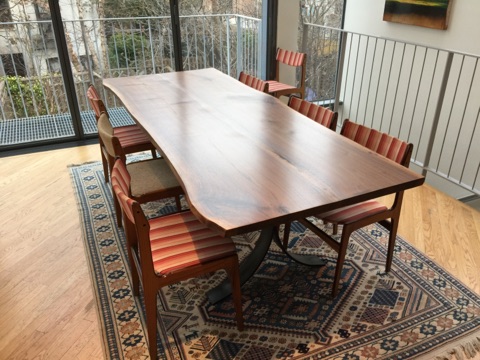 S O U R C E S: We deal with over 30 tree companies (small and large), city parks and home owners.
G R E A T S T O R I E S: We save trees from parks and yards that would otherwise be turned into firewood or mulch. Homeowners often contact us to help them salvage a tree that they've known their whole lives, but that has become ill and requires removal. We save these trees and transform them into something that can last a lifetime.